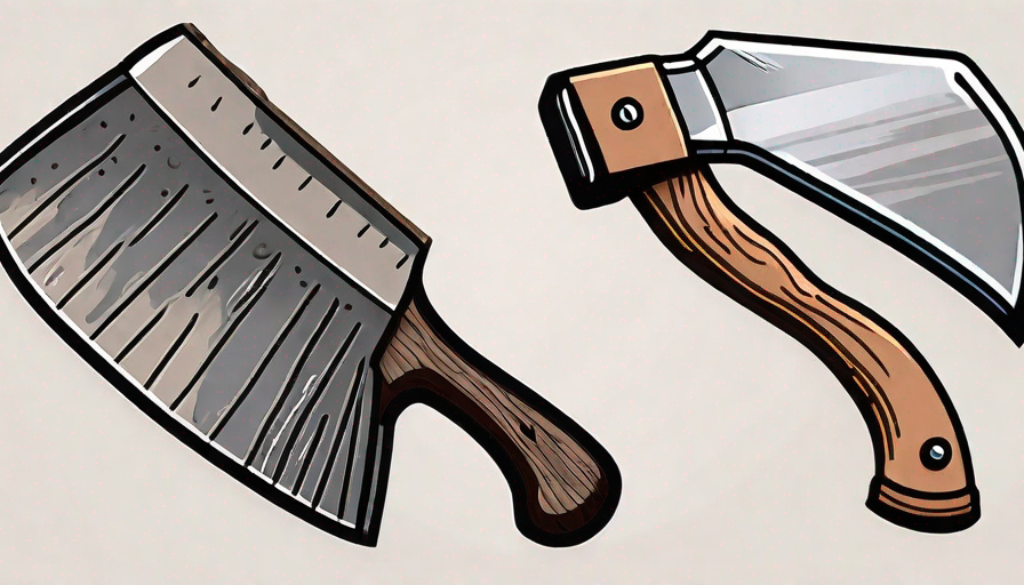 When it comes to chopping tools, the axe and the hatchet are two of the most commonly used. While they may seem similar at first glance, there are key differences that set them apart. This comprehensive guide will delve into the specifics of each tool, helping you understand their unique characteristics, uses, and benefits.
The Basics of Axes and Hatchets
Before we delve into the differences, it's important to understand the basic structure of these tools. Both axes and hatchets consist of a handle and a head, which includes a blade for cutting or chopping. However, the design and size of these components vary significantly between the two tools.
The axe, for instance, is generally larger and heavier than the hatchet. It's designed for two-handed use, allowing for greater force in each swing. The hatchet, on the other hand, is a smaller, one-handed tool, designed for lighter tasks and portability.
Axes: A Closer Look
The axe is a versatile tool that has been used throughout history for a variety of tasks, from felling trees to splitting wood. The size and weight of an axe make it ideal for heavy-duty tasks that require power and precision.
The head of an axe is typically heavier than that of a hatchet, providing more momentum during a swing. This makes it easier to cut through large pieces of wood. The handle, often made of wood or fiberglass, is long enough to be gripped with both hands, providing better control and leverage.
Hatchets: A Detailed Examination
Hatchets, while smaller than axes, are equally versatile. They are primarily used for chopping small pieces of wood, kindling, or branches. The hatchet's compact size makes it a popular choice for camping and other outdoor activities.
The head of a hatchet is lighter and its blade is typically sharper than that of an axe, allowing for precise cuts. The handle is shorter, designed for one-handed use. Some hatchets also feature a hammerhead on the opposite side of the blade, adding to their functionality.
Comparing Uses: Axe vs Hatchet
While both axes and hatchets can be used for chopping and splitting wood, their specific uses often depend on the task at hand. The size, weight, and design of each tool make them better suited for certain jobs.
For instance, the axe, with its longer handle and heavier head, is ideal for felling trees and splitting large logs. The force generated by a two-handed swing can easily cut through thick wood. On the other hand, the hatchet, with its compact design and sharp blade, is perfect for smaller tasks like making kindling or chopping small branches.
When to Use an Axe
As a heavy-duty tool, the axe is best used for tasks that require power and endurance. This includes felling trees, splitting large logs, and chopping thick pieces of wood. The axe is also a good choice for tasks that require a longer reach, such as cutting branches from tall trees.
However, due to its size and weight, the axe is not as portable or convenient for small tasks or for carrying on outdoor adventures. It also requires more space to swing safely, making it less suitable for confined spaces.
When to Use a Hatchet
The hatchet shines in situations where portability, precision, and convenience are key. Its compact size makes it easy to carry, whether you're going camping or just working in your backyard. The sharp blade and light head make it ideal for precise tasks like carving or making kindling.
However, the hatchet is not designed for heavy-duty tasks like felling large trees or splitting large logs. Its shorter handle and lighter head mean it generates less force than an axe, making it less effective for these tasks.
Choosing Between an Axe and a Hatchet
When deciding between an axe and a hatchet, consider the tasks you'll be performing, the space you'll be working in, and your physical strength and endurance. While both tools are versatile and useful, they each have their strengths and weaknesses.
If you're planning to do heavy-duty tasks like felling trees or splitting large logs, an axe would be the better choice. If you're looking for a tool for smaller tasks or something to take on camping trips, a hatchet would be more suitable.
Remember, safety should always be a priority when using these tools. Always use the right tool for the job, and make sure you know how to use it properly and safely.