What size generator do I need?
What do we want? Power! When do we want it? Now!
Especially in the case of an emergency, when "want" becomes "need."
Please select the maximum number of appliances used simultaneously. When in doubt, select the highest draw appliances (usually things like washers, dryers, air conditioners, things with electric motors such as saws, toaster ovens, and stoves).
Why should you buy a generator? Because our infrastructure can be fragile.
Having a generator that is rated for your specific power needs is the difference between weathering a storm or having to recover and re-purchase supplies, appliances, and other equipment–not to mention the first thing we think of, the fridge, and all the wondrous essentials it contains.
Speaking of storms, remember the unexpected winter storm Texas had? Their power grid was unfit to handle the draw from homes desperately trying to stay warm.
Texas (the only state on an independent power grid) was tested and did not score highly. What about the rest of the country?
In March of 2021, the American Society of Civil Engineers gave the USA a C- grade for infrastructure (which includes power grid quality). Not to be a fear-monger, but now may be the right time to get a generator.
Emergency and Power Backup Use
Emergency use is one of the most common motivations for buying a generator. Weather is the cause of many power outages, but poorly maintained infrastructure (remember that C- rating, anyone?) and overloading of a grid can also cause an emergency outage. 
Both portable and stationary generators can be wired into your home for automatic activation in case of an emergency. It is extremely important to make sure this is done in accordance with local code, so call your electrician to safely install a transfer switch.
During a power outage, generators keep your essential, electrically-powered appliances and equipment running. As we've learned during the COVID-19 pandemic, "essential" can mean something different to each person. This is why you need to calculate your unique needs when considering an emergency generator–or let us calculate it for you!
Construction and Worksites
It's worth noting that generators are not solely for emergency use. Generators are invaluable on worksites, having the capacity to power a significant amount of heavy equipment safely and efficiently. 
The best construction generators have a number of outlets with varying voltage (V) and amperage (A); for example 120V, 30A and 120/240V, 50A. They should also be sturdy, to withstand hours of vibration and potential exposure to the elements, and not excessively noisy. 
When your worksites have a reliable, efficient generator with all needed outlets onboard you can reduce delays and ensure the use of the right equipment for your job.
Camping, Recreation, Events, Food Trucks, and General Use
Generators are also found connected to RV's and campers, at concerts, around festivals, and anywhere else you might need power. RV and camping generators power the essentials at a low volume, while a generator powering a food truck may have any number of uses during a festival, so noise isn't as much of an issue as adaptability. Ultimately, the right type of generator is determined by what it needs to do.
This page will discuss specific benefits of general classes of generators, with "best-in-class" recommendations and–most importantly–our handy-dandy Generator Calculator. So, prepper, project manager, and general population, read on or jump straight to the calculator for customized recommendations to give you peace-of-mind about your decision.
What (or should we say, "Watt") do we use to measure generators?
Precisely. When deciding on the right generator, Watts (W) are the determining variable. That is, you need a generator with sufficient wattage to start and supply your appliances and equipment. 
Pro tip: the energy it takes to start a given piece of equipment is generally higher than the watts required to keep it running. For generators, this is listed as "start," or "peak" watts.
Generally, one generator is used to perform the power production for one worksite, home, or RV. However, some types (usually smaller, more portable options) can be paired when power demands increase. 
Framing your generator wattage needs similarly to a financial budget, where $ = W, is a great way to add clarity to the decision. If you add up the watts required by the equipment you need to keep running and end up with 4250W, you'll likely need a generator rated for 5000W or more to cover your start and run power "expenses." Consider this page and calculator your personal generator accountant. We'll help you navigate the various types of generators and find the best fit for your purpose.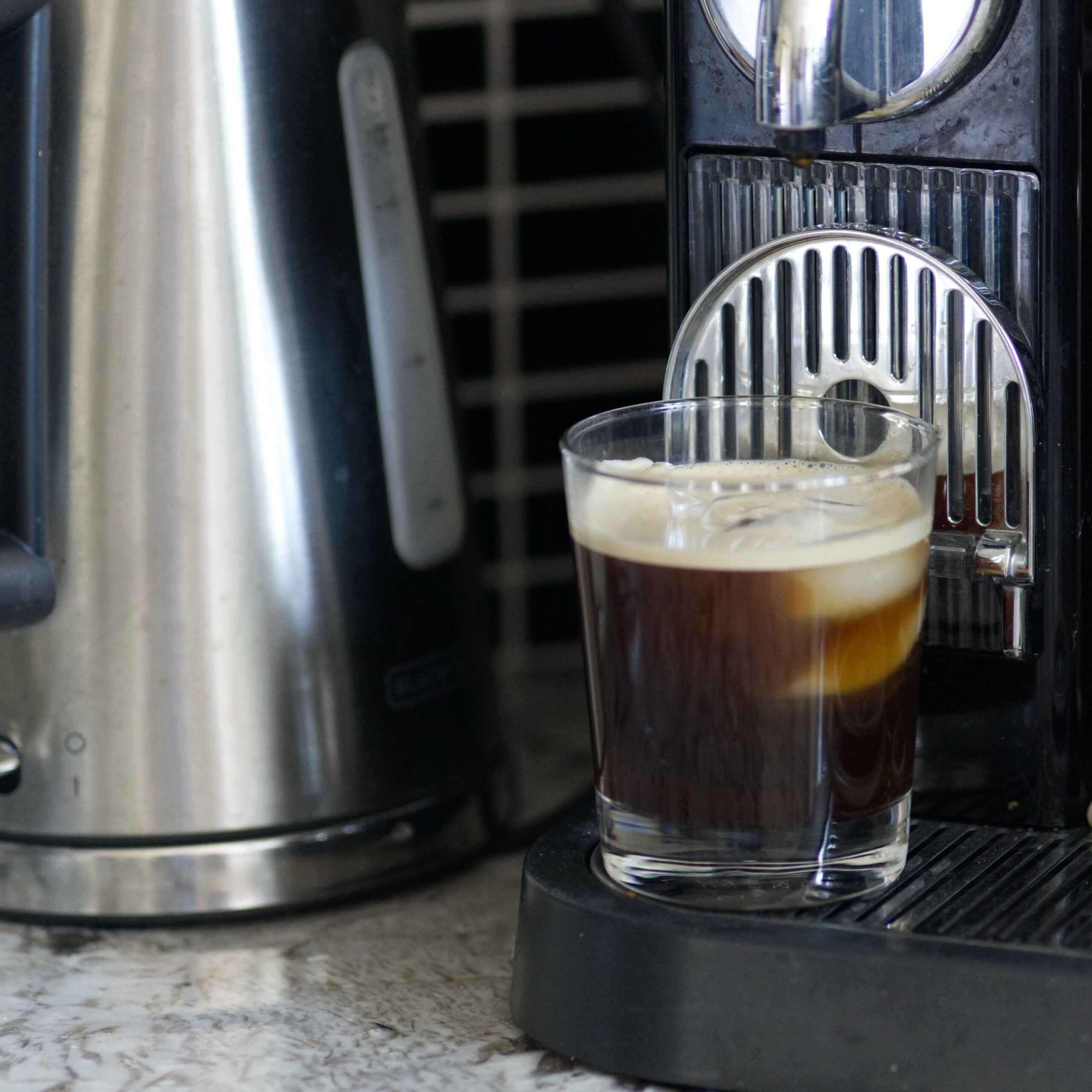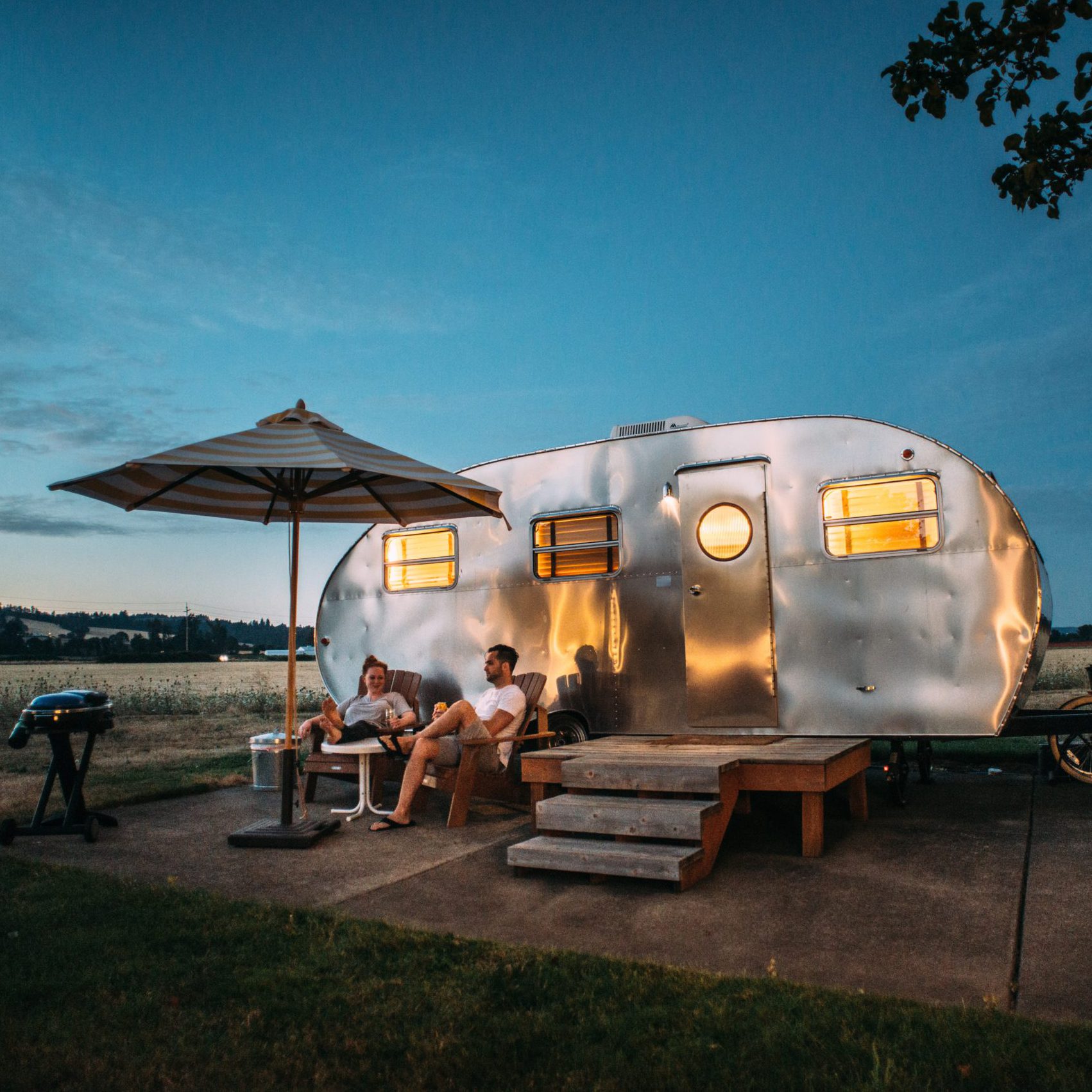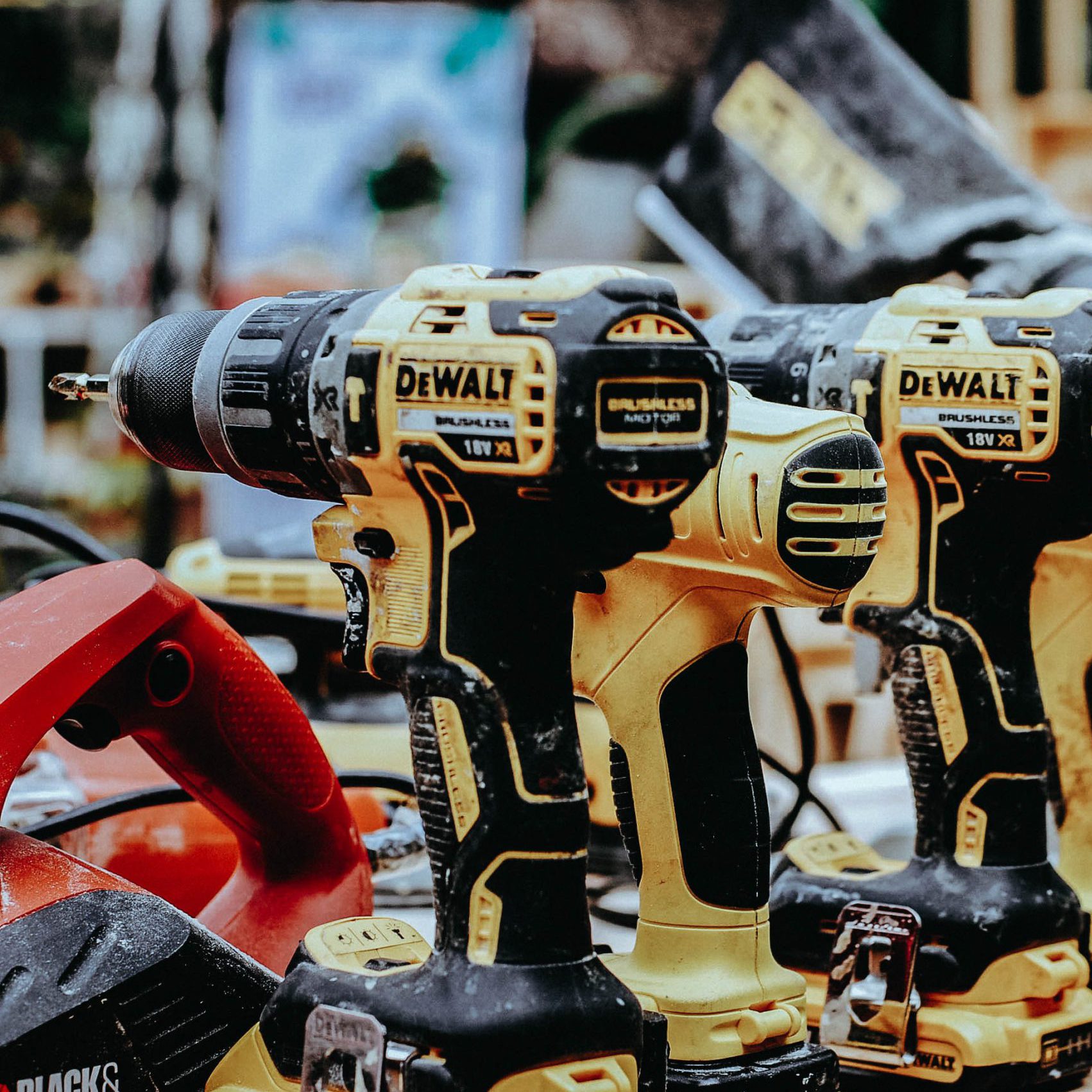 What features do you want in a generator?
Say you need a generator for home. Do you need full-house power or only to keep a couple essential appliances running? Do you live in an area where power outages are common or not? Or are you looking for something to power your worksite's halogen lights and miter or concrete saws? Maybe you just need that little A/C in the RV to stay on and keep your sanity powered-up.
These questions and considerations will help guide your decision-making. Here's our top recommendations, starting with best-in-class for each watt category:
A note about harmony. In any electronic circuit, the voltage and amps produced and received travel in waves. The speed, or spacing, of the highs and lows ("crests" and "troughs" for engineers in the room) is the frequency of a wave. 
When running multiple pieces of equipment, their respective waves can interfere with each other and cause "harmonic distortion" to the entire circuit. Generators are tasked with needing to accommodate varying frequencies at the same time, as the total harmonic distortion (TDH) of a system can be damaging–especially to smaller, more sensitive electronics. 
If you plan to use a generator to power your laptop, phone, or other complex electronics, look for a TDH of less than 5%.
Our Recommended Generators
Up to 12,000 Watts (or more)
Let's start with the big guys.
The DuroMax XP12000EH Generator is our featured recommendation for those seeking maximum power production. This generator is durable, powerful, and adaptable. It's built on a heavy-duty metal frame built specifically for this model and even comes with a wheel and handle kit for easy transport over varied terrain.
With 12,000W of peak/start power and 9,500W running, the DuroMax XP12000EH can handle pretty much anything your house, campsite, or worksite can throw at it. For a home situation, you can power your standard A/C, hot water heater, lights, sump pump, stove, fridge/freezer, and flat screen TV and DVD/blu-ray player but still be under it's running wattage.
Over and above its durability and power-production, what really makes this generator shine is its adaptability. It's designed to run on gasoline or propane and has a variety of plug-ins for your equipment. There are two 120V, 20A outlets; one 120V, 30A; 120V/240V, 30A; and one 120V/240V, 50A outlet.
DuroMax includes its MX2 technology which allows you to double the amperage through 120V channels but still permits use of both 120V and 240V outlets. For ease of use, the DuroMax XP12000EH has a convenient panel for monitoring and adjusting vital signs. DuroMax adds frosting to the cake by including lots of accessories. For all of these reasons (and the fact that it's both EPA and CARB-certified), the DuroMax XP12000EH Generator is our top choice for the high-power category.
Also noteworthy in the high-watt categories are: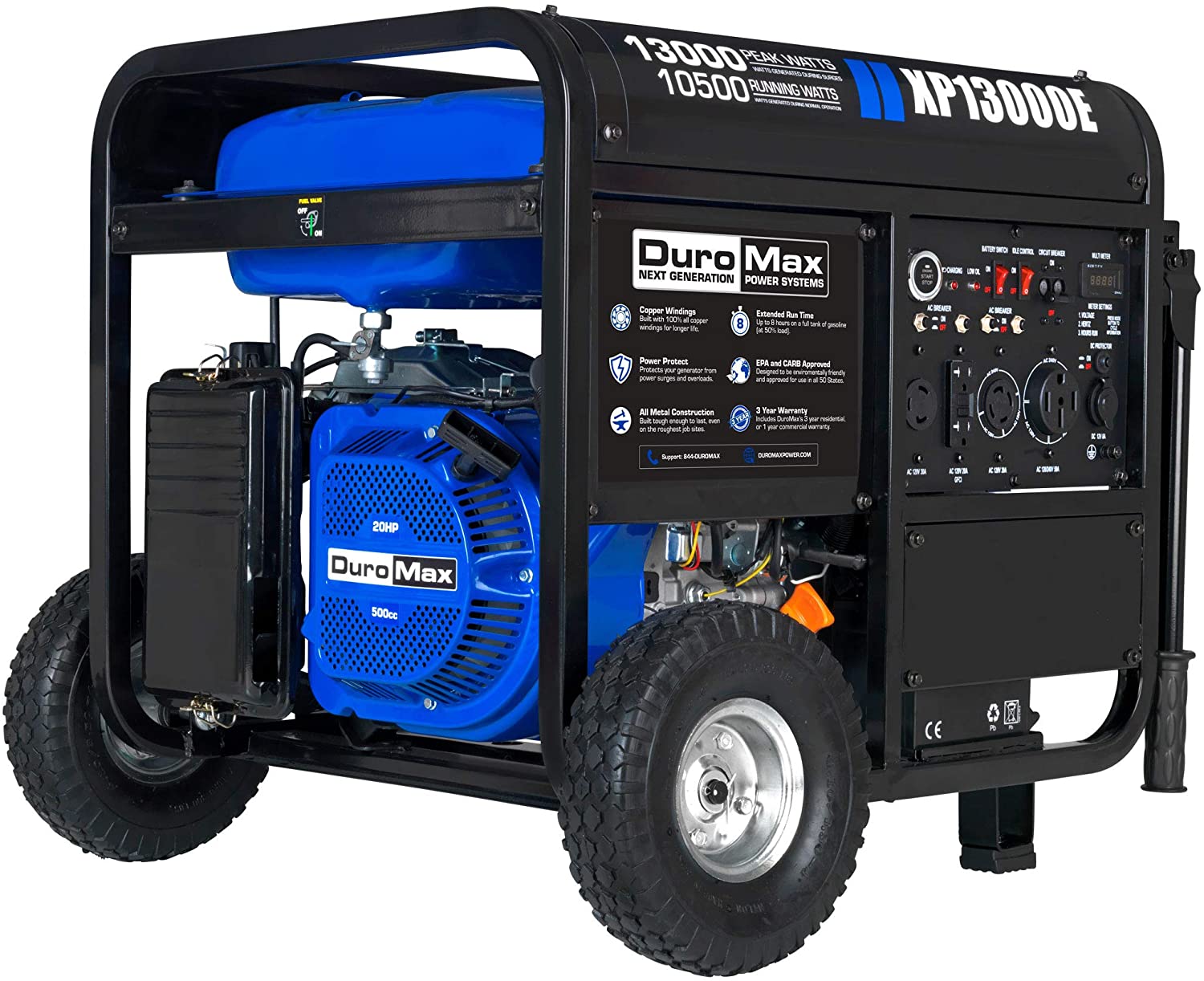 The DuroMax XP13000E Gas Powered Portable Generator has all the functionality of the XP12000EH–with 1,000W more running power–but only runs on gas and does not feature DuroMax's MX2 technology. That said, it's an excellent choice for those who need a bit more power than the XP12000EH.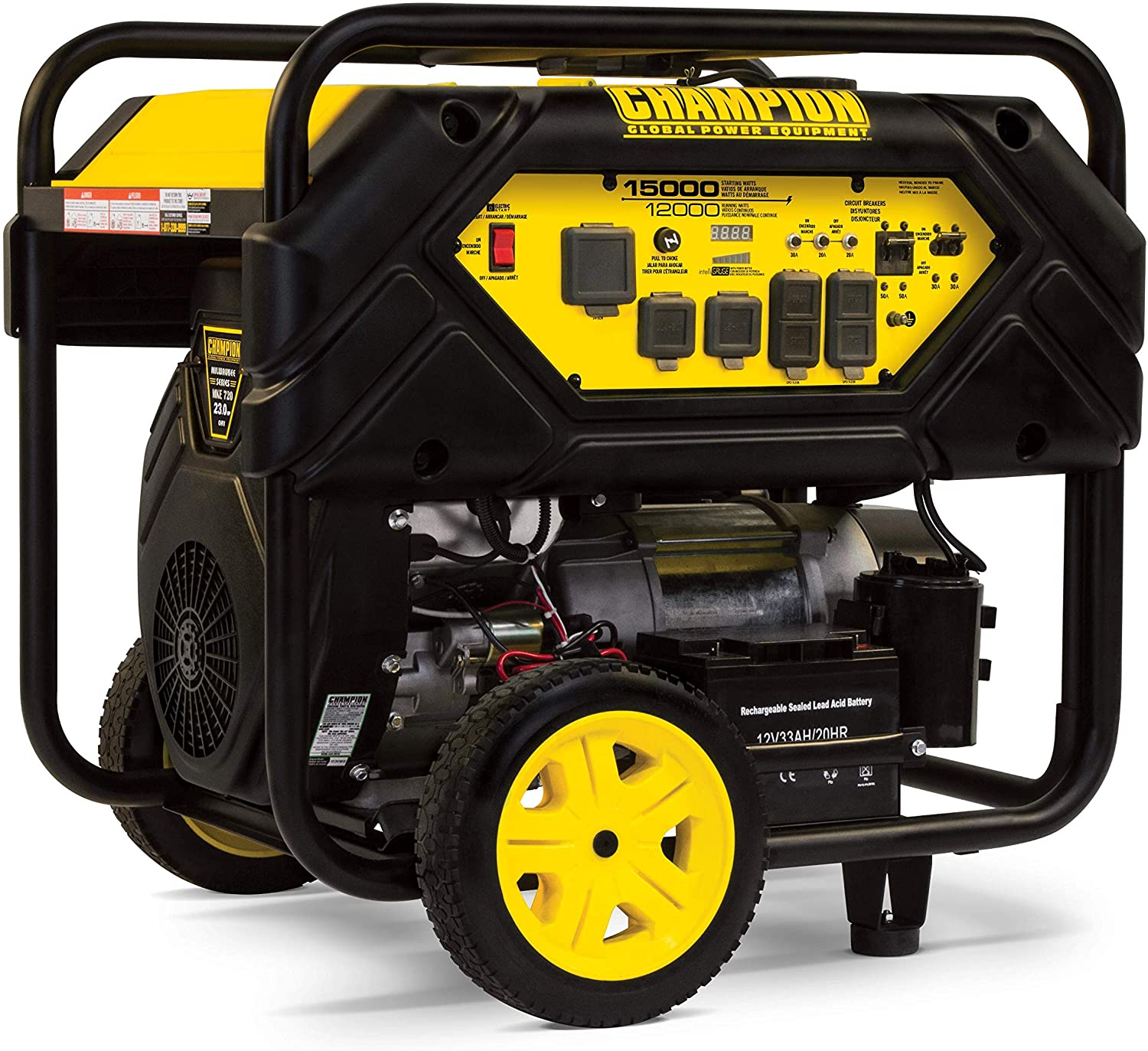 This one's a worksite monster. The Champion Power Equipment 100111 15,000/12,000-Watt Portable Generator with Electric Start and Lift Hook takes things up a notch in power (12,000W running). More power means larger sized tank, heavier housing, and a larger engine–but fear not, Champion added a lift hook for simple transport of this behemoth of a generator.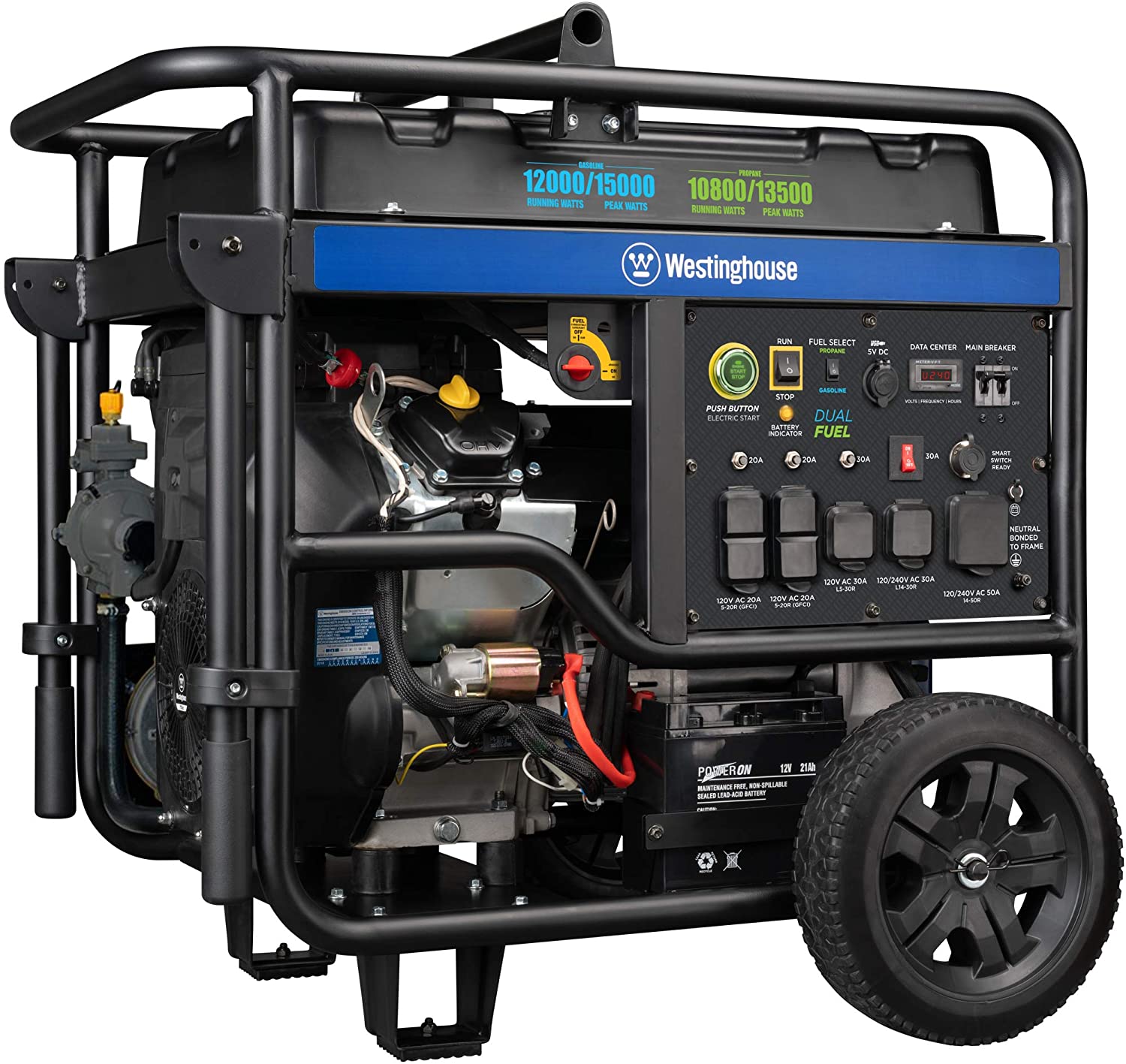 The Westinghouse WGen12000DF Ultra Duty Portable Generator has the same power production as the Champion listed above, but can operate on gas or propane fuel. It has less than 5% TDH, too, so it can be safely used on smaller devices like phones and laptops through direct USB outlets. If ultra power, versatility, and ease-of-use weren't enough, Westinghouse built this generator with a remote start and a smorgasbord of outlets.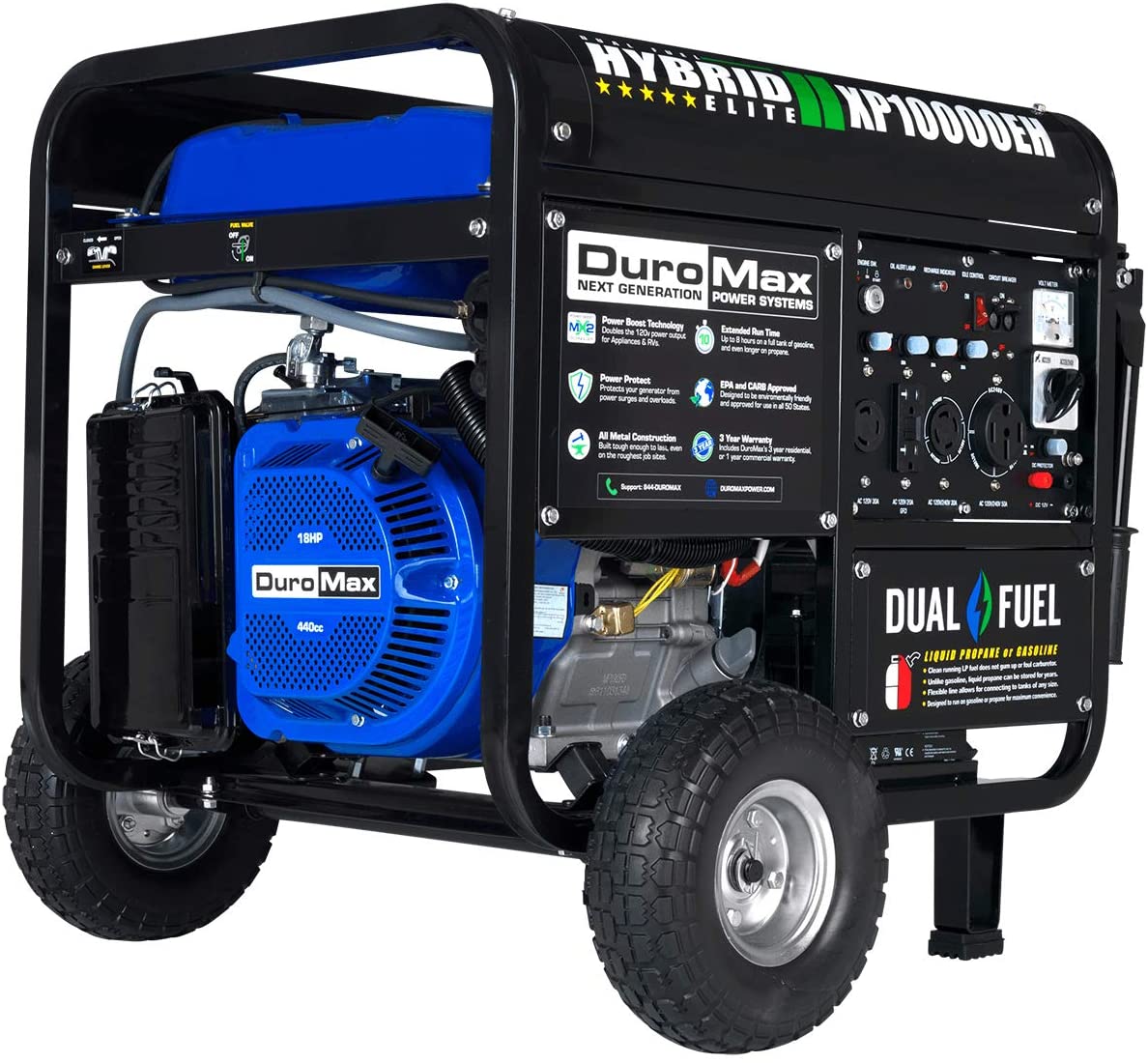 Topping out the mid-to-high level wattage generators is the DuroMax XP10000EH Dual Fuel Portable Generator which has 10,000W peak and 8,000W run power.
We love the reliability and versatility from the XP12000EH, and this is essentially all that with slightly less power (and slightly more portability). It comes with the same outlets as its larger counterpart and keeps the MX2 technology while also including an efficiency-boosting idle control.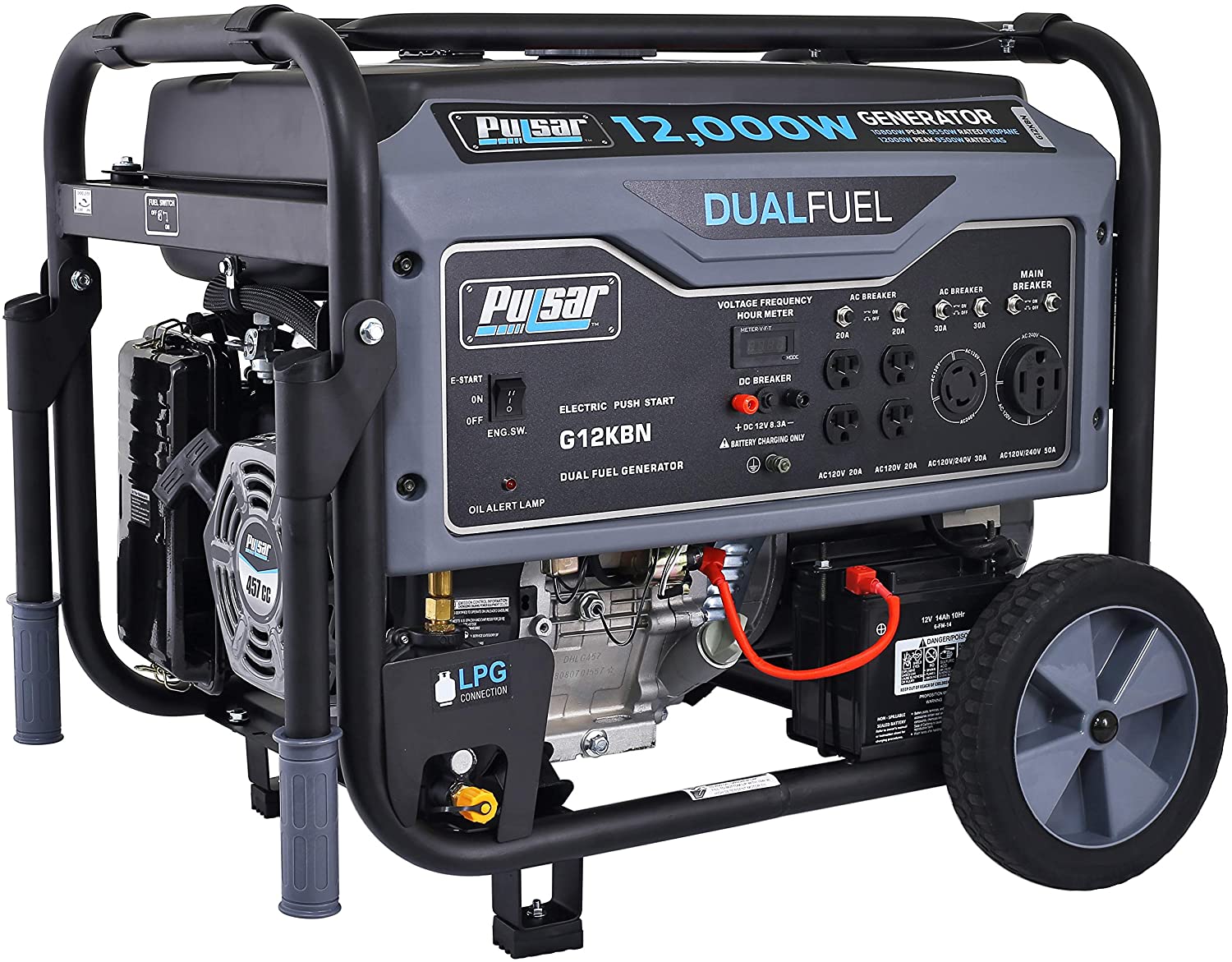 Runner-up for this category goes to Pulsar G12KBN Heavy Duty Portable Dual Fuel Generator. This dual-fuel generator has the basic capacity to run up to 9,500W (12,000W peak/start) on gas and up to 8,550W run (10,500W peak/start) on propane.
This difference in wattage based on fuel drops it down in our scoring, but not all is lost! The Pulsar G12KBN has a nice array of outlets and convenient stow-away handles built into it's durable, wheeled frame.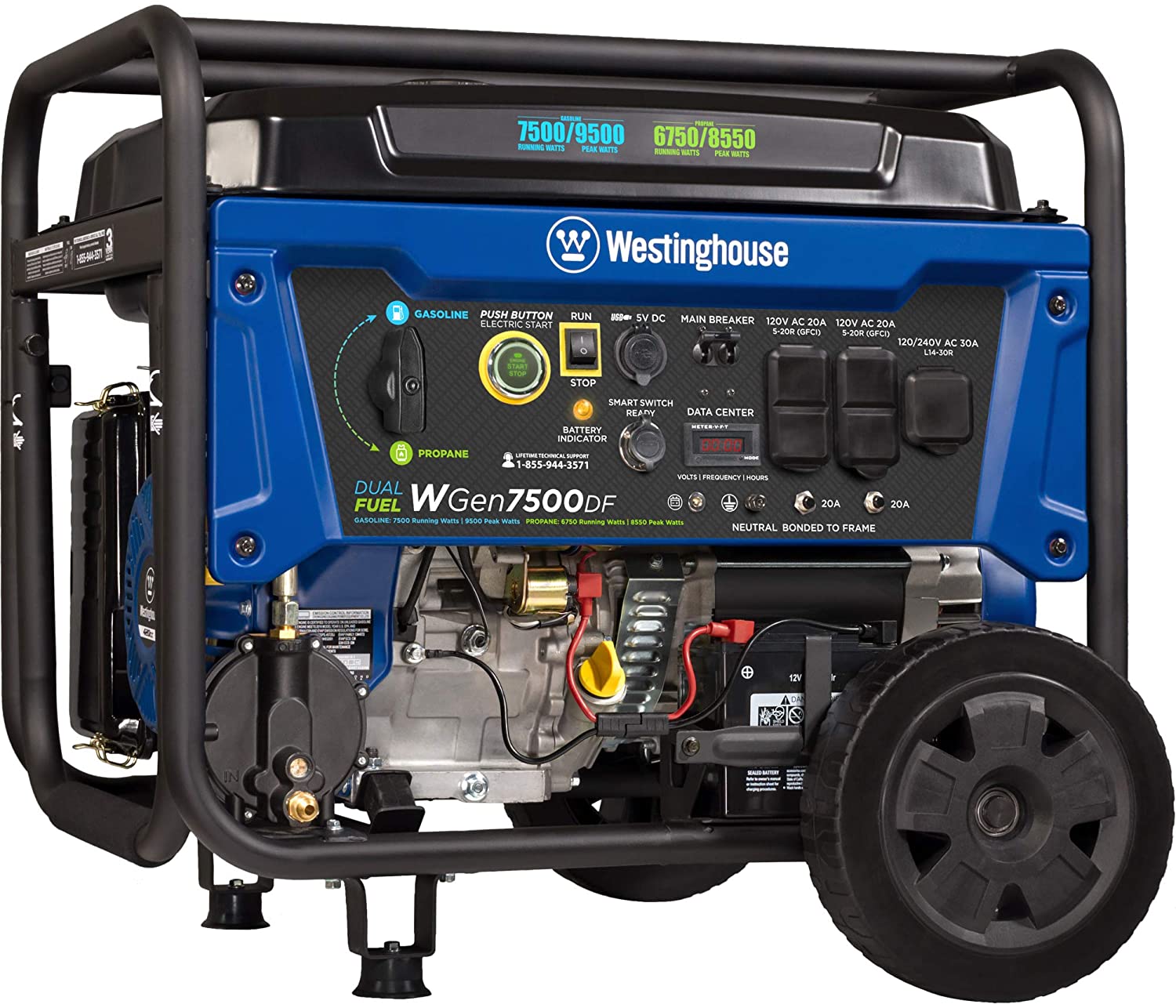 In this low-to-mid-level range we've placed the Westinghouse Outdoor Power Equipment WGen7500DF Dual Fuel Portable Generator on the top of the podium. The WGen7500DF peaks at 9,500W and comes prepared to be added to a home circuit via a transfer switch. 
It's the king of convenience, with an electric (and remote) start and the ability to switch fuel types without having to turn off the generator. With 7,500W running power the WGen7500DF is still strong enough to run many appliances in your home simultaneously.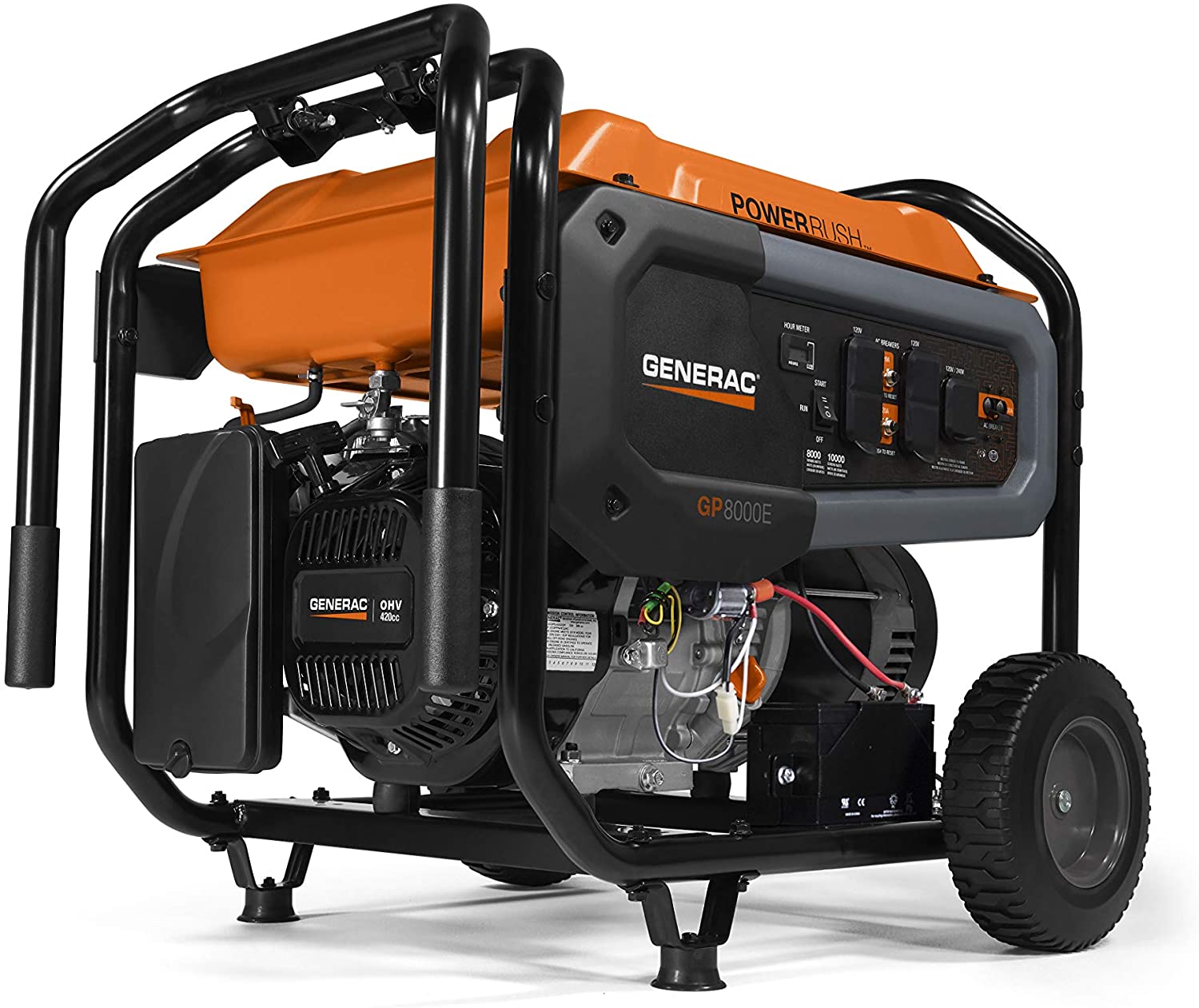 Lower on the podium, but excellent options, are the following:
In second place we've got the Generac 7676 GP8000E Portable Generator. This generator has a 10,000W start/peak power output thanks to Generac's "Power Rush" technology which increases power when starting up equipment. 
At a running power of 8,000W you'll have plenty of energy for a home emergency. Or, if you like to camp in style, power your RV to the max with the GP8000E. It has a sturdy, steel cradle and heavy-duty wheels to help keep you glamping in comfort regardless of the terrain.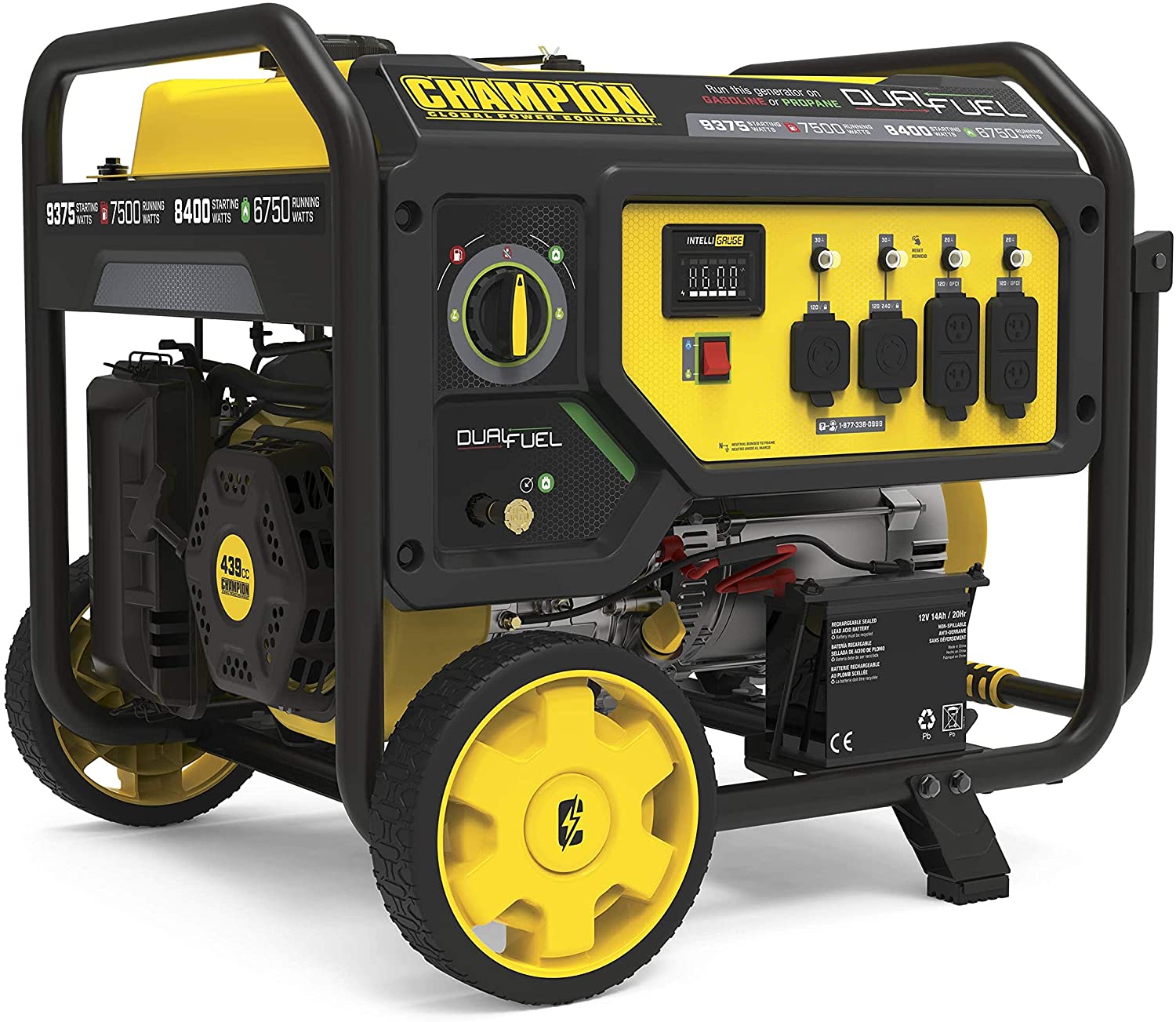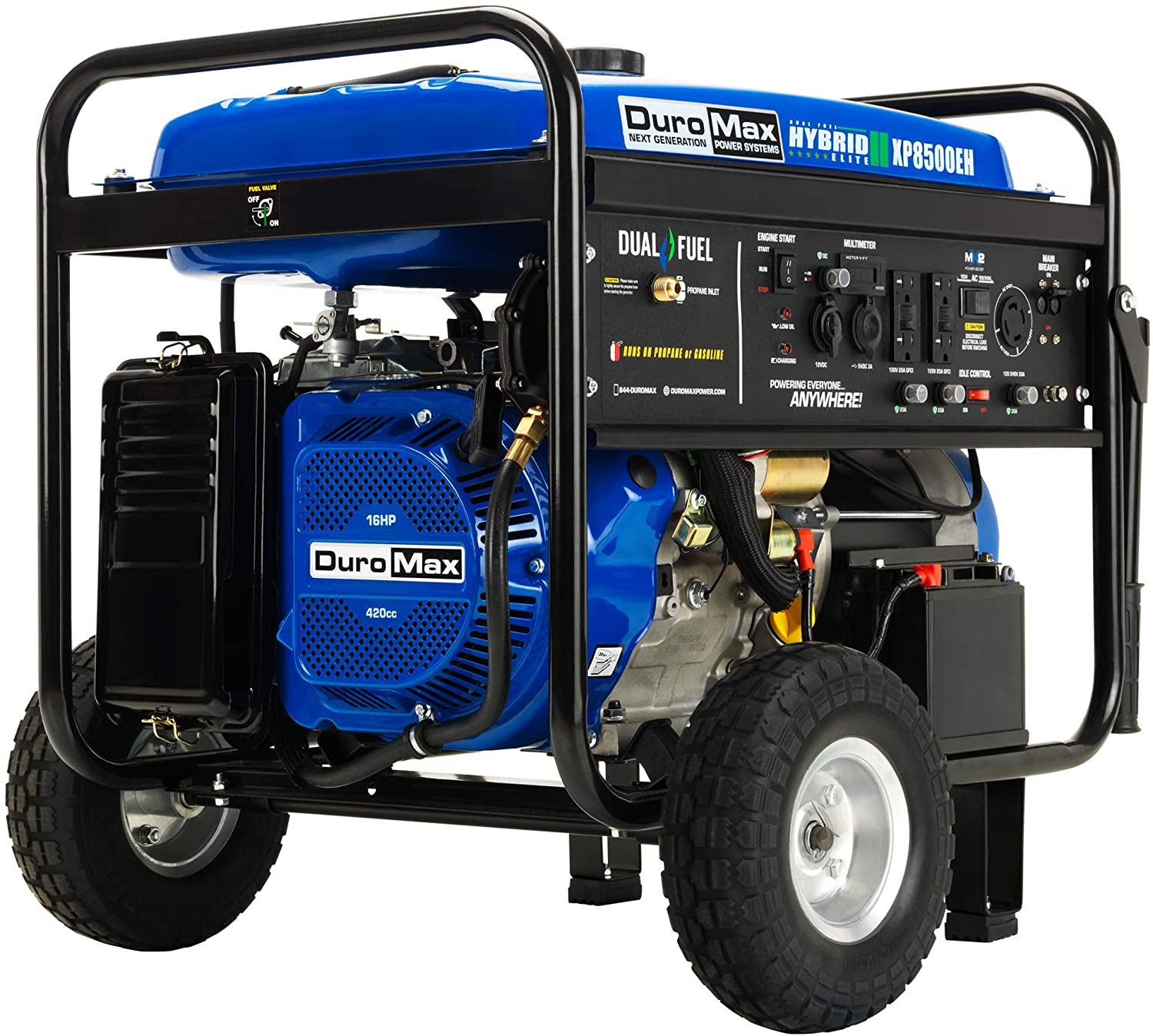 It's DuroMax again! The DuroMax XP8500EH Dual Fuel Portable Generator blends a superb combination of rugged reliability and modern adaptability. It has fewer outlets than larger DuroMax models, but includes direct USB plug-ins and allows you to use gas or propane–nice options to have at a big tailgate.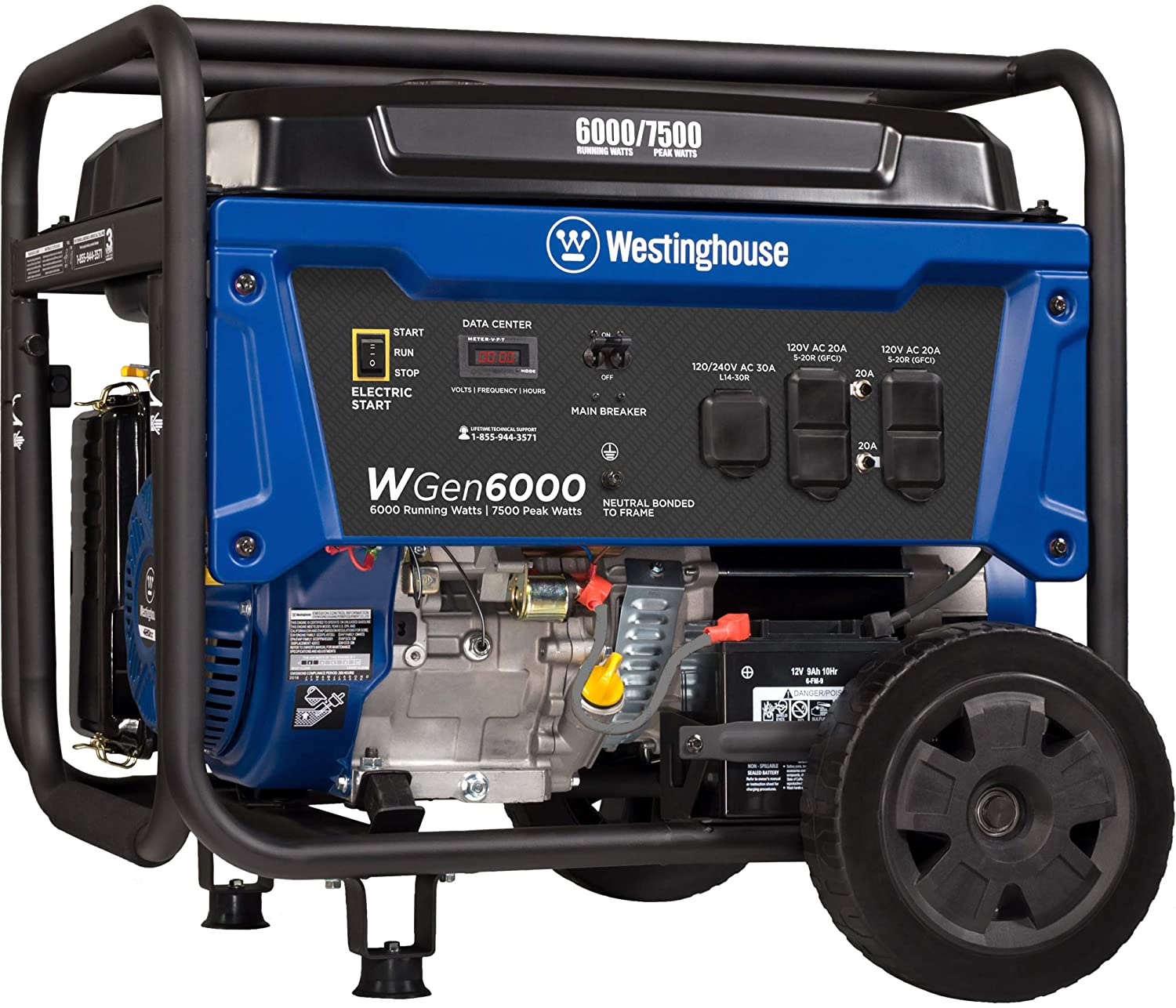 When all you need is the essentials, the Westinghouse WGen6000 is the go-to. It has 7,500W peak and 6,000W running along with the ability to be added to a home circuit via a transfer switch. Beyond its durable construction the WGen6000 is also easy to maintain and has a long run time of 13 hours on one 6.6 gallon tank of gas.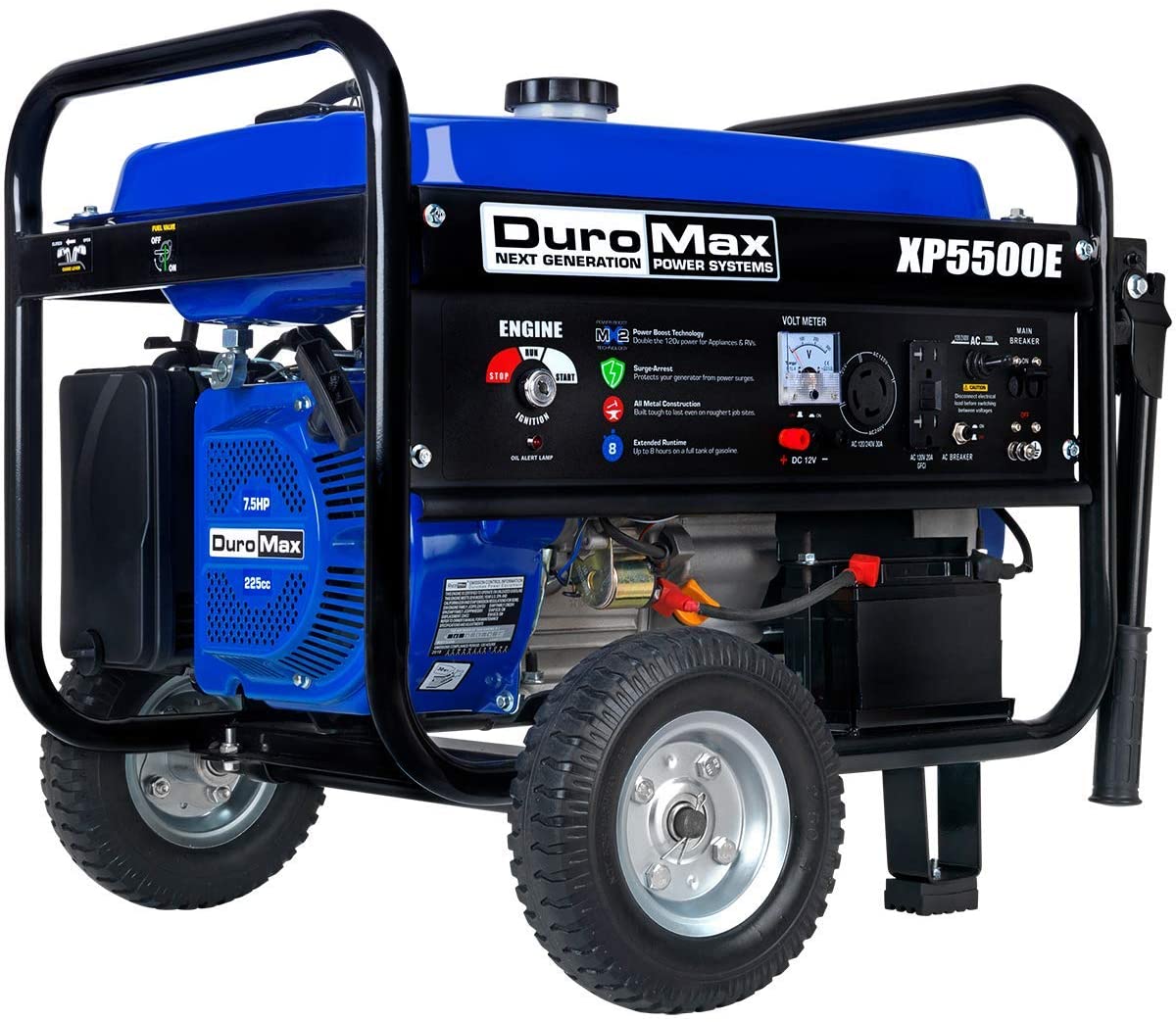 The DuroMax XP5500E Gas Powered Portable Generator runs a little lower on the power scale than the WGen6000 (running at 4,500W and peaking at 5,500W), but still makes our list thanks to its affordability and full-featured, easy-to-access power panel. Like other DuroMax generators, it's also built to last with a sturdy frame and durable wheels.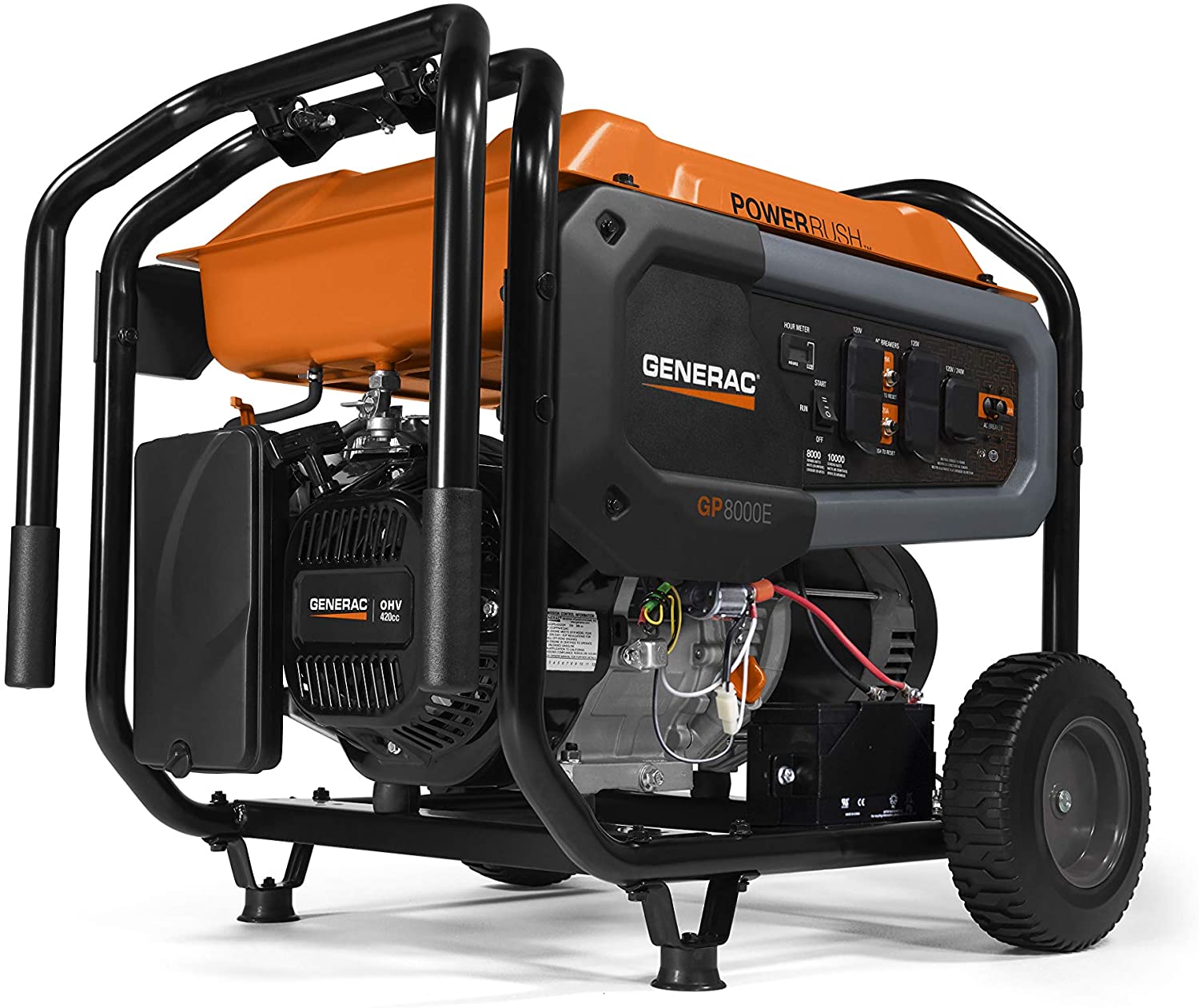 If you want a trusted brand and have any concern about health-related effects of generators, go with the Generac 7683 GP6500 Portable Generator. It has "CO-Sense" technology which will shut off the generator to protect you from carbon monoxide poisoning. It has 8,125W starting and 6,500W running power from it's strong but lightweight build.
Ready to figure out what you need? Use our calculator.
This page is user-supported. Links may contain affiliate links – meaning we get a small payment if you choose to buy something – and it doesn't cost you anything.