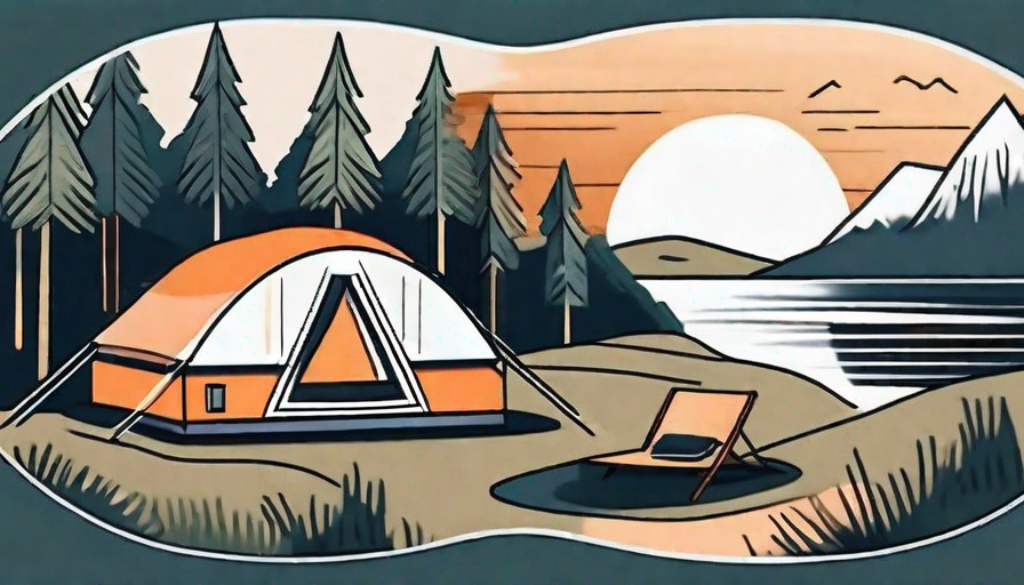 With the rise of eco-tourism and the desire for unique travel experiences, camping and glamping pods have become increasingly popular. These innovative structures offer a comfortable and eco-friendly alternative to traditional camping, providing the perfect blend of outdoor adventure and luxury accommodations. This guide will delve into the world of camping and glamping pods, exploring their features, benefits, and how to choose the right one for your needs.
Understanding Camping and Glamping Pods
Camping and glamping pods are essentially small, often portable, structures designed for outdoor accommodation. They come in a variety of shapes and sizes, from simple wooden structures to luxurious pods equipped with all the amenities of a high-end hotel room. The main difference between camping and glamping pods lies in the level of comfort and amenities provided.
Camping pods are typically more basic, offering a secure and weatherproof alternative to a tent. They are usually equipped with beds and some basic furniture, but you may still need to bring your own bedding and cooking equipment. On the other hand, glamping pods offer a more luxurious camping experience, often featuring amenities like electricity, heating, private bathrooms, and even kitchenettes.
The Evolution of Camping and Glamping Pods
The concept of camping pods originated in the UK, as a way to extend the camping season and provide a more comfortable alternative to tents. Over time, these pods have evolved and diversified, leading to the emergence of glamping pods. These luxury pods cater to those who love the idea of being close to nature, but also want the comforts and conveniences of a hotel.
Today, camping and glamping pods can be found all over the world, in a variety of settings. They are particularly popular in rural and natural areas, where they blend seamlessly into the surrounding landscape. The design of these pods has also evolved, with many now featuring innovative eco-friendly features such as solar power and composting toilets.
Benefits of Camping and Glamping Pods
One of the main benefits of camping and glamping pods is their ability to provide a comfortable and secure accommodation option in the great outdoors. Unlike tents, these pods offer solid walls and a lockable door, providing a greater sense of security and protection from the elements.
Another advantage of these pods is their eco-friendliness. Many are made from sustainable materials and designed to minimize their impact on the environment. For example, some pods are insulated to reduce the need for heating, while others are equipped with solar panels or rainwater collection systems.
Comfort and Convenience
Glamping pods take the comfort factor to the next level, offering amenities that you would typically find in a hotel room. This can make for a more relaxing and enjoyable camping experience, especially for those who are not used to roughing it. With features like comfortable beds, electricity, and private bathrooms, glamping allows you to enjoy the beauty of nature without sacrificing comfort.
Moreover, both camping and glamping pods offer the convenience of being ready to use upon arrival. There's no need to worry about setting up a tent or finding a suitable campsite. This can save you time and effort, allowing you to focus on enjoying your outdoor adventure.
Choosing the Right Pod for Your Needs
When choosing a camping or glamping pod, there are several factors to consider. The first is the level of comfort and amenities you desire. If you're looking for a simple and affordable option, a basic camping pod may suffice. However, if you prefer a more luxurious experience, a glamping pod with additional amenities would be more suitable.
Another important factor is the location. Consider the type of environment you want to be in, whether it's a secluded forest, a picturesque lakeside, or a mountainous region. The location can greatly affect your experience, so choose a pod that is situated in a setting that you find appealing.
Size and Capacity
The size and capacity of the pod are also important considerations. If you're planning a solo adventure or a trip with a partner, a small pod may be sufficient. However, for family trips or group outings, you'll need a larger pod that can accommodate more people. Some pods even come with separate bedrooms and living areas, providing ample space for everyone.
Lastly, consider the cost. Camping and glamping pods can range in price, depending on their size, amenities, and location. Be sure to set a budget and compare prices before making a decision. Remember, the most expensive option isn't always the best. It's about finding a pod that meets your needs and provides value for money.
Conclusion
Camping and glamping pods offer a unique and enjoyable way to experience the great outdoors. Whether you're a seasoned camper looking for a more comfortable alternative, or a luxury traveler wanting to try something different, these pods can provide the perfect accommodation solution. By understanding what they are and considering your needs and preferences, you can find the perfect pod for your next outdoor adventure.
So why not give camping or glamping pods a try? With their blend of comfort, convenience, and eco-friendliness, they offer a unique and memorable way to connect with nature. Happy camping!