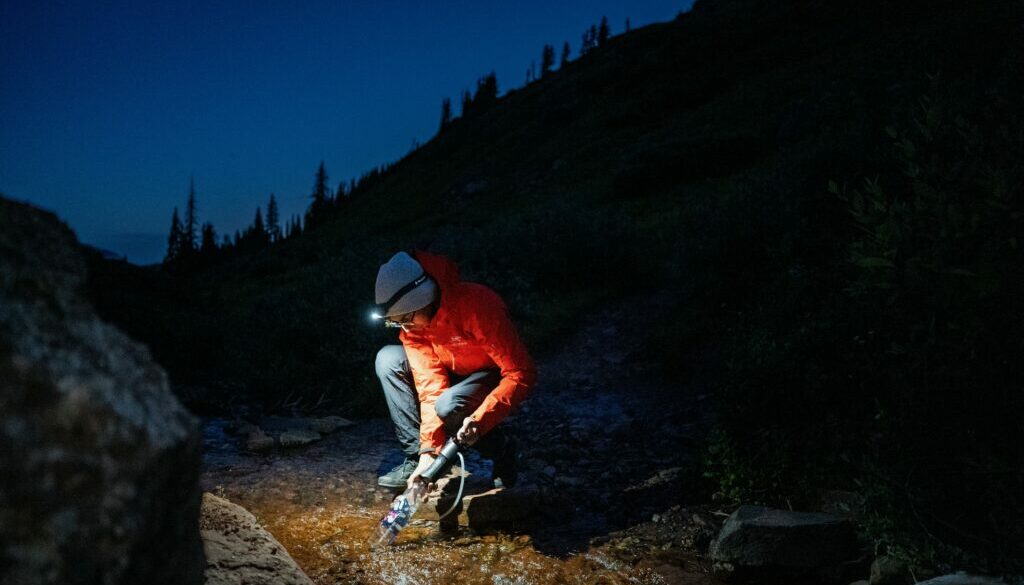 Find a clean source of water
The first step to filtering water in a survival situation is finding a clean source of water. It sounds obvious, but I can't tell you how many times I've seen people make the mistake of trying to filter contaminated water. If it looks dirty, don't drink it!
Let's take a look at what you should be looking for in a safe source of water:
Moving water is preferable to standing water.

Find your source upstream from potential pollution as much as possible.

Use your eyes and nose to help identify potential contaminants, like algae or raw sewage.

Look for natural filtration systems that can remove particulates before you drink the water. For example, running through sand will filter out some impurities and organic matter.

Find sources with abundant wildlife—this generally means the area is safe for humans as well!
Purify the water
There are several methods you can use to purify water in a survival situation:
Chemical purification – Chemicals such as iodine, chlorine dioxide, and silver are added to water to kill off living organisms. To use this method, follow the instructions for the specific chemical you're using. You will have to wait for a period of time after adding the chemical before your water is safe to drink.

Solar distillation – This method involves boiling water and then using evaporation and condensation so that only purified water remains. Use a shallow container that can hold at least one quart of liquid. Set it on an angle so that any liquid left in the container after evaporation will run down into another container positioned below the first one.
Water filter
A portable water filter should be your main choice for safe drinking water.
In most cases, a filter is going to be the quickest and easiest way to obtain clean water.
Filters are particularly useful in the wilderness because they make it possible to drink directly from untreated sources like rivers, lakes or ponds.
One of their biggest advantages is portability—they can be used virtually anywhere you can find water.
Though they work best on clear, freshwater sources like streams or lakes, filters can also be used on cloudy sources like rainwater collection systems or murky, stagnant water found in puddles.
Most portable filters do not remove chemicals or salt. They may also clog on particulates such as dirt and sediment unless a prefilter is attached beforehand.
Though widely available at sporting good stores and online retailers, portable filters are not cheap (take a look at our list of best portable water filters). A quick search will reveal countless models ranging from under $20 all the way up to several hundred dollars. Most filters have a lifespan of about 100,000 gallons before they need to be replaced—in other words, assume that if you move frequently one filter will last you a lifetime with proper care and maintenance (even longer than that if you're using it at home).
Boiling
You may want to consider boiling the water for drinking, cooking and personal hygiene. You will want to use a pot or pan with a lid. Boiling water is one of the most effective ways to kill disease-causing microorganisms. This method should be performed if you do not have access to a commercial filter or chemical tablets.
During an emergency, boil water for at least one minute after it reaches a rolling boil (the point at which the bubbles in the bottom of the pot no longer rise). If you are above 6,562 feet above sea level, boil water for three minutes.*
Boiled water can be made safe to drink by adding two drops of household bleach per gallon of boiled water (or by adding 4 drops per quart), and then allowing it to stand covered for 30 minutes. Household bleach will contain either 5% to 6% sodium hypochlorite or 8.25% sodium hypochlorite as active ingredients; these concentrations are sufficient for disinfecting drinking water (more than this concentration may damage your health!). Note that iodine is not recommended because it has been found that many people are allergic to iodine and taking more than recommended can have serious side effects as well as cause thyroid problems. Heating tablets can be used instead of bleach if needed but they do not remove chemicals from your drinking water so using both methods when available is best practice.*
After boiling, allow the treated surface water cool before using it in order to avoid burns from scalding hot or very warm liquid.*
Knowing how to find and filter water can save your life.
Not having clean water to drink is a serious concern in any emergency, regardless of its length. In the immediate aftermath of a natural disaster or other calamity, both the water supply and plumbing infrastructure may be severely damaged or compromised. The Centers for Disease Control and Prevention (CDC) recommend storing a minimum of one gallon of potable water for each person in your household each day for at least three days following an emergency. However, if you're trapped in a survival situation with no water purification tools available, knowing how to find and filter/purify water can mean the difference between life and death—especially in hot climates where dehydration can quickly set in.