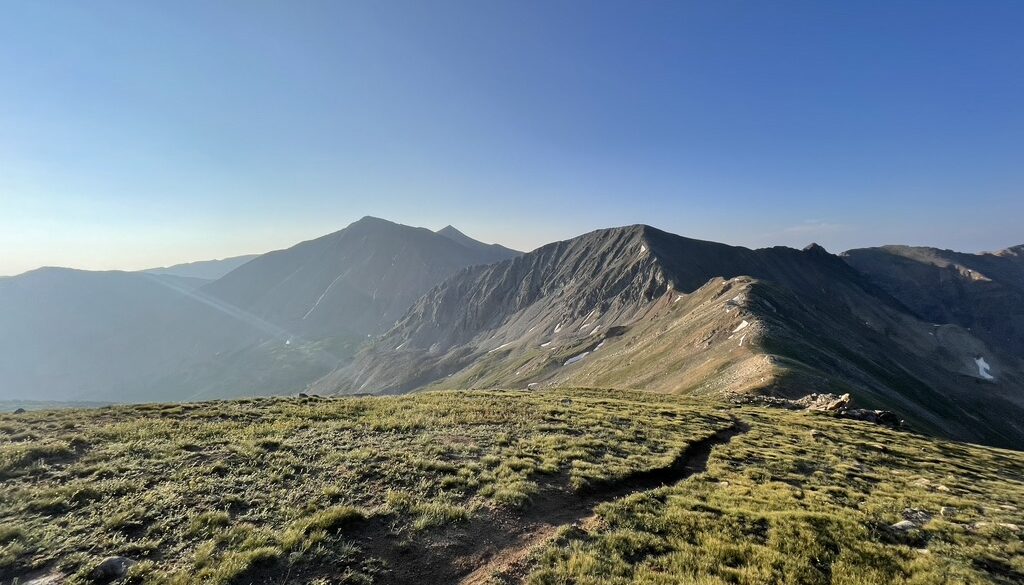 When it comes to hiking, having the right footwear is essential. Everyone knows that. But what's the right footwear for you? We've put together this list of the best hiking boots for 2022 to help you find the best boots for YOU.

Whether you're looking for a boot that's lightweight and comfortable or one that's tough and durable, we've got you covered.
Here's the top 5 list of Hiking Boots based on our research:
Salomon Quest 4 Gore-Tex Backpacking Boots
La Sportiva Nucleo High II GTX Hiking Boots
Lowa Renegade GTX Mid
Scarpa Kinesis Pro GTX Hiking Boots
Asolo TPS 520 GV Hiking Boots
We'll do a brief overview of each boot and then do a full review to help you understand the differences before letting you in on our budget pick and our top pick for the best hiking boots for 2022.
Overview of the Best Hiking Boots for 2022
Salomon Quest 4 Gore-Tex Backpacking Boots
If you're looking for a boot that's both comfortable AND durable, look no further than the Salomon Quest 4 Gore-Tex Backpacking Boots. These boots are made with a Nubuck leather upper combined with nylon mesh. They also have a waterproof Gore-Tex lining, so you can be sure your feet will stay dry no matter what the conditions are like. Plus, the ADV-C 4D midsole provides superior stability and comfort, even when you're carrying a heavy load.
There are few things in life more enjoyable than a good hike. And, of course, a big part of having a good hike is having the right gear. That's why we're taking a close look today at Salomon hiking boots.
Salomon is a French company that's been making outdoor gear since 1947. They know a thing or two about making gear that can stand up to the rigors of the outdoors. And that experience shows in their hiking boots.
These boots are designed for comfort and durability. They have a tough construction that can handle the most rugged terrain. But they're also light and comfortable, so you can wear them all day without your feet getting tired.
Read full review

La Sportiva Nucleo High II GTX Hiking Boots
If you're reading this article, you're probably somewhere between amateur hiker and professional hiker (beginners and pros are welcome too, of course!). It's actually pretty tough to find a boot that suits the increased demands of an avid hiker while catering to the sub-professional budget. That said, the La Sportiva Nucleo High II GTX Hiking Boots are up for the challenge. They're made with a waterproof Gore-Tex lining and a super grippy Vibram sole, so you can keep your footing no matter what the terrain is like.
La Sportiva is an Italian company that has been making outdoor footwear since 1926. Today, they offer a wide range of hiking boots for both men and women. One of the things that sets La Sportiva apart from other brands is their use of Gore-Tex Surround technology. This allows their boots to be both waterproof and breathable, keeping your feet dry and comfortable even when hiking in wet conditions.
Read full review

Lowa Renegade GTX Mid
Whether you're an experienced hiker or just starting out, you need a good pair of hiking boots. LOWA hiking boots are a great choice for anyone looking for a quality boot. With a variety of styles and features, there's a LOWA boot that will suit your needs. LOWA has been making quality hiking boots for over 90 years. Their boots are known for being comfortable, durable, and supportive. LOWA's commitment to quality craftsmanship ensures that their boots will last for many years of hiking.
The Renegade GTX is a great mid-range option for those who want high-quality materials in an accessible package.
Read full review
Scarpa Kinesis Pro GTX Hiking Boots
When it comes to finding the perfect hiking boot, there is no shortage of options on the market. But if you're looking for a boot that will provide the ultimate in comfort, support, and durability, then you need to check out SCARPA's line of hiking boots.
SCARPA has been making quality outdoor footwear for over 70 years, and their experience shows in their hiking boots. Every detail, from the way the boot is constructed to the materials used, has been carefully considered to provide the best possible experience for the wearer.
The Kinesis Pro GTX is one of the best hiking boots Scarpa makes, and is excellent for serious, multi-day treks.
Read full review

Asolo TPS 520 GV Hiking Boots
ASOLO is a leading manufacturer of outdoor footwear, and their hiking boots are some of the best on the market. Whether you need a boot for light hiking or a boot for more challenging terrain, ASOLO has a boot that will fit your needs. ASOLO hiking boots are made with quality materials and construction, so you can be sure they will last. The boots are also comfortable, so you can wear them all day on the trail.
The TPS 520 GV is a stellar example of the kind of boot Asolos puts out, and is one of the best for 2022 because of its top quality materials and construction.
Read full review

Detailed Breakdown of The Best Hiking Boots for 2022
How do we differentiate between high-quality hiking boots?

Thanks for asking! It's important. We break boots down according to the features that make the most impact during use:
The Upper–this encompasses the highest part of the boot down to where the cushioning starts
The Midsole–the cushioning part of the shoe between the upper and the outsole, it'll be a different material (and sometimes color) than the upper and outsole.
The Outsole–where the rubber meets the trail.
Many boot brands will use similar terms to describe different parts of their technology, which can be confusing. We'll review them based on what each part means for you when you're using it, whether that's a short scramble up a local hill or a multi-day trek to far off places.
Made of high-quality materials and construction, the Salomon Quest 4 Gore-Tex provides excellent support, traction, and comfort.
Price: $229.95 on amazon.com
Weight (pair): 2lb, 14oz

Upper
The Salomon Quest 4 Gore-Tex Best Hiking Boots are a great choice for anyone looking for a durable and comfortable boot for hiking and backpacking. For balancing a waterproof yet breathable membrane, Salomon chose Gore-Tex, which will keep your feet dry and comfortable in all conditions.
The upper is also made of a combination of Nubuck leather and mesh for a breathable and abrasion-resistant shell. And, of course, there's a healthy dose of water repellency to make sure the fabric doesn't get weighed down by water.
The other thing special about Salomon is their Sensi-Fit technology, which wraps tightly around your foot to keep it in place as the rest of you moves on up the trails. Also, leveraging their trail running expertise, Salomon has improved the ankle collar for better cooperation with your natural joint motion.

Midsole
The boots are also equipped with the supportive and comfortable ADV-C 4D, which provides stability and cushioning on even the most uneven terrain. The "C" in ADV-C 4D stands for "chassis." This is the part of the shoe that's directly under and around your foot.
Salomon uses some variant of chassis in all of their hiking boots to provide dynamic support. As your gear gets heavier and miles get longer, you'll be glad to have some extra stability under your feet. The ADV-C 4D in the Quest 4 Gore-Tex wraps up around your ankles for an added layer of protection and security on technical hikes.

Outsole
Salomon produces their own outsoles in-house, this allows them to test, re-test, and improve on their formulas. The result is super-durable, high-quality traction that's perfectly suited for a variety of terrain types.
The Quest 4 Gore-Tex has Salomon's All Terrain Contagrip, which is nice and luggy for treks in potentially sloppy terrain while maintaining compliant contact on dry, rocky days. It's better to stay on your feet–especially when you're carrying a heavy pack!
Pros:
Very comfortable while providing support.
Waterproof and breathable (Gore-Tex!).
Solid grip in nasty and happy conditions.
Durable and long lasting.
Advanced stability on uneven terrain.
Cons:
Not made completely of leather.
Not suitable for extremely cold weather.
Sizing may be tricky, be prepared to size up!
No micro pulleys for advanced lacing.
Seriously, this is a good boot!
La Sportiva Nucleo High II GTX Hiking Boots

A lot of these boots have similar features, which is why they compete with each other. Let's break it down a bit and see what makes the La Sportiva Nucleo High II GTX different.
Price: $209.00 at amazon.com
Weight (pair): 2lbs, 1oz

Upper
La Sportiva uses a classy Nubuck leather combined with their Nano-Cell technology to improve breathability and give a traditional look to this high-tech boot. The Nucleo High II GTX also has a Gore-Tex layer to provide waterproof protection.
Waterproofing technology has come a long way in performance and environmental impact–but Gore-Tex has been the standard-setter since the beginning. The Nucleo High II GTX has Gore-Tex's "Surround" membrane integrated into the upper.
Gore-Tex Surround wraps your foot in 360 degrees of waterproof but breathable comfort. Say goodbye to extra-sweaty feet from conventional waterproofing (you might as well have stepped in those puddles barefoot…) and watch as the miles go dry.

Midsole
Another way shoes differentiate themselves is by the midsole structure and materials. This is the biggest contributor to the underfoot feel, or how a boot responds to and affects your foot when wearing it.
The Nucleo High II GTX has a combination of compression-molded foam and a stiff plastic shank to give you a combination of comfort and structure.
Outsole
Vibram is a brand as familiar with outdoor recreation as Gore-Tex. La Sportiva chose the versatile compound, Nano XS Trek for the Nucleo High II GTX. This compound balances durability with comfort by being sturdy, yet flexible.
The Nucleo High II GTX also has an extra-aggressive braking pattern on the rearfoot of the outsole, which helps with providing control when navigating sloppy conditions and descents.
This outsole will perform particularly well in wet conditions and on rocky terrain.
5 pros:
La Sportiva Nucleo High II GTX are available in wide sizes.
They are waterproof and will keep your feet dry.
In addition to being waterproof, they're ALSO very breathable, ensuring that your feet will not overheat even on the longest and most strenuous of hikes.
The boots are comparably light, making them ideal for long hikes where every ounce counts.
Finally, the boots are very durable and will last you for many years with proper care.
5 cons:
La Sportiva Nucleo High GORE-TEX Best Hiking Boots are not cheap, and you will need to factor in the cost when considering whether or not to purchase them.
Compared to some mountaineering-specific boots, these don't have a lot of traction, which can be an issue if you plan to do mountaineering activities.
There's only one color option available.
La Sportiva boots tend to run small, so you may need to order a size up or be prepared to make a return.
Nothing. This boot balances durability and comfort extremely well.

More than a fair-weather hiker, this boot will make the difference and go the distance in whatever conditions nature throws at you.
Price: $262.46 on amazon
Weight (pair): 3lbs, 11oz
Upper
Similar to the Scarpa Kinesis Pro GTX, the Asolo TPS 520 GV EVO uses full-grain leather combined with Gore-Tex's Performance Comfort membrane. What's different in this shoe, is the use of a single piece of leather to wrap the foot.
Using one-piece leather removes the need for seams, which are weak points as far as liquid and debris are concerned.
Midsole
The TPS 520 GV EVO uses dual-density foam for its midsole to give hikers extra comfort regardless of the trail conditions. What's special about this shoe, though, is the "TPS" part of its name.
Asolo uses their TPS (or, "Triple Power Structure") technology through the outsole to provide specific cushioning to areas of the foot that receive more impact.
Outsole
Okay, we got ahead of ourselves.
Asolos's TPS tech is also involved in the outsole construction! In the midsole, TPS means more cushion. In the outsole, TPS means more durability. Rubber doesn't last forever, so creating highly-resistant areas in the outsole means you just might get extra miles out of this shoe–and comfortably, too.
Like the other shoes in this review, the TPS 520 GV EVO employs Vibram for its outsole compound. The tread design lends itself to high ground contact while leaving reasonable grooves for self-cleaning during muddy strolls in the mountains.
Pros:
1. Super-duper waterproof thanks to Gore-Tex Performance Comfort membrane and one-piece, full-grain leather upper.
2. Extra durability and cushion for high-impact areas of the foot.
3. Micro pulley lacing system.
4. Available in wide sizes.
5. 2 year manufacturer warranty (1 year is standard, so they've got some confidence in this boot!).

Cons:

1. A little more pricey than other options.
2. Considerably more heavy than other boots.
3. No rubber guard across the base of the upper.
4. Less aggressive outsole tread design.
5. No mention of stiff shank in midsole.
Scarpa Kinesis Pro GTX Hiking Boots

The Scarpa Kinesis Pro GTX is a big step up (pun intended) in durability and performance. If you think the other boots on this review are wimpy, the Kinesis Pro GTX is probably more your speed.
Price: $378.95 on amazon.com
Weight (pair): 3lb, 12oz
Upper
This boot is a beast, making use of Gore-Tex's Performance Comfort membrane, which is composed of 4 layers to provide maximum waterproofing, breathability, and longevity. This is one of few boots still made with full-grain leather (read: "real leather"). While this means it may get a little scratchy-looking, you know your foot will stay uber-protected.
Scarpa added a protective rubber guard 360 degrees around the connection point of the upper and the midsole, which is always nice to see. This region of any kind of footwear is prone to tearing and leaking, so the additional protection is a good sign that this shoe will last a really long time under the most serious wear.

Midsole
The midsole on Scarpa's Kinesis Pro GTX is a little different than other boots in that it doesn't have a full-length shank. It does, however have a TPU (hard plastic) bridge between the rearfoot and forefoot, which gives you better stability when you have a big ol' pack and nowhere to put your whole foot (hello, boulder fields).
They combine this tough plastic bridge with a slightly softer plastic support system under/around your foot. To top it off, there's a plus sockliner to keep your feet dry and reduce slipping.
Outsole
Now this is exciting.
The Kinesis Pro GTX has Vibram's Biometric outsole, which is neat-o because it applies anatomical placement of tread to improve each part of the gait cycle–braking, loading, take-off, and slipping (because mud, right?).
They've also intelligently placed grooves to help shed mud in wet conditions. These shoes are a little heavy as-is, so you'll be glad to leave extra mud-pounds behind.
Pros:
They are very comfortable and provide good support for your feet.
They are waterproof and will keep your feet dry in very wet conditions.
Full-grain leather can be treated to last even longer (and it already lasts a long time!).
Lacing design incorporates "micro pulleys" to ensure this beast of a boot fits like a beaut'.
They have extremely good grip and provide traction on otherwise traction-less surfaces.
Cons:
The Kinesis Pro GTX is pretty pricey.La Sportiva Nucleo High II GTX Hiking Boots
No full-length shank.Scarpa Kinesis Pro GTX Hiking Boots
Full-grain leather may take more time to break-in.
Considerably more heavy than other boots.
5. Like some other European brands, sizing may be tricky for US buyers.

If you're looking for a comfy all 'rounder for everything from 50+ mile-days to quick trips with a view the Lowa Renegade GTX Mid may be for you. Its durable and supple ankle collar makes it a fan favorite for long days.
Price: $249.95 on amazon.com
Weight (pair): 2lbs, 7oz
Upper
Lowa chose a combination of tough Nubuck leather and Cordura fabric to make this boot's upper water repellent, resistant to tearing, and as comfortable as possible. They also use Gore-Tex (hence the "GTX") to provide waterproofing to this already strong boot.

Midsole
The Renegade GTX Mid has a comfortable and supportive midsole, with serious structure provided by nylon shanks that run the length of the boot. Lowa stands out in the midsole category with their Monowrap technology, which provides side-to-side support across the outside of the foot.
This kind of stability is crucial when wearing heavy boots, especially on unpredictable terrain. You're welcome, ankles (and pride).

Outsole
Lowa's Renegade GTX Mid uses Vibram EVO to provide a balance of softness and strength. The tread design favors ground contact, which is great for super-long hikes. The softness of the rubber has to be compensated for in amount of outsole–which might be the reason for a little more heft to this boot compared to other models.
Pros:
The Lowa Renegade GTX Mid hiking boots offer a great deal of support and comfort.
They are also very versatile and can be used for a variety of activities.
The boots are made with high-quality materials and construction.
They are available in a variety of sizes to fit different foot shapes and sizes.
Lowa makes the Renegade GTX Mid in a wide variety of colorways.
Cons:
The boots are on the expensive side.
They are not as breathable as some other hiking boots on the market.
The boots may be too warm for some people to wear in warmer climates.
The lacing system can be difficult to use for some people.
The Renegade GTX Mid is a little heavier than other boots in the same category.
Tips for Maintaining Your Hiking Boots in 2022
Whatever boots you pick, it's important to take care of them. As everyone's parental figure has said as some point, "if you take good care of your gear, it'll take good care of you."
To keep your boots in good condition and to ensure they last for as long as possible, you should regularly clean and maintain them. Here are some tips on how to do so:
Clean the boots after each hike. This includes removing any dirt, mud, or debris that has accumulated on the boots. You can use a brush or a damp cloth to wipe them down.
Inspect the boots regularly for any signs of wear and tear. If you notice any cracks or holes, you should patch them up or get them replaced as soon as possible.
Apply a waterproofing treatment to the boots at least once a year. This will help to keep the boots water-resistant and will also help to extend their lifespan.*
Store the boots in a cool, dry place when they're not being used. This will help to prevent any damage that can be caused by exposure to moisture or extreme temperatures.
By following these simple tips, you can ensure that your best hiking boots will last for many years to come.
*follow the manufacturer's recommendation for treatment, it's largely depended on the upper material and the type of waterproofing you use.

Best Hiking Boots for 2022 – Wrap Up
When it comes to finding the best hiking boots, there are many factors to consider. With so many options on the market, it can be difficult to know where to start. However, by taking the time to research the different options and consider your individual needs, you can find the perfect pair of boots for the 2022 hiking season.
We hope that this article has been helpful in your search for the best hiking boots. Remember to consider your individual needs when making your decision, what we think is best may be different than what's best for you! That's why we include 5 boots in our review–any of theses 5 boots would be MORE than suitable for serious backpackers and amateure hikers alike.
To help with your decision making, we selected 2 of these boots for special recognition as our budget pick and our top pick for the best hiking boot in 2022.
Without further ado, the best budget boot for 2022!
Our Pick for the Best Budget Boot

To be fair, it's a disservice to call this a "budget" pick. That makes it sound like a bad choice–when it's a fantastic boot!
We think this boot is priced perfectly to get people into hiking with all (seriously, the Quest 4 Gore-Tex has it ALL) of the best features that a hiking boot can offer.
Plus, with the added comfort from Salomon's Sensi-Fit and improved joint movement, you'll wonder how you ever wore anything else.
Our Top Pick for the Best Hiking Boots
Scarpa Kinesis Pro GTX Hiking Boots

This is a boot to end all boots! If you need a hiking boot to keep you the most dry, comfortable, and stable on super-long trips, you should seriously consider the Kinesis Pro GTX.
From it's full-grain leather upper, to precise micro pulley lacing, to an outsole designed to work with you and give you the best grip possible–well, it's a top-notch boot.