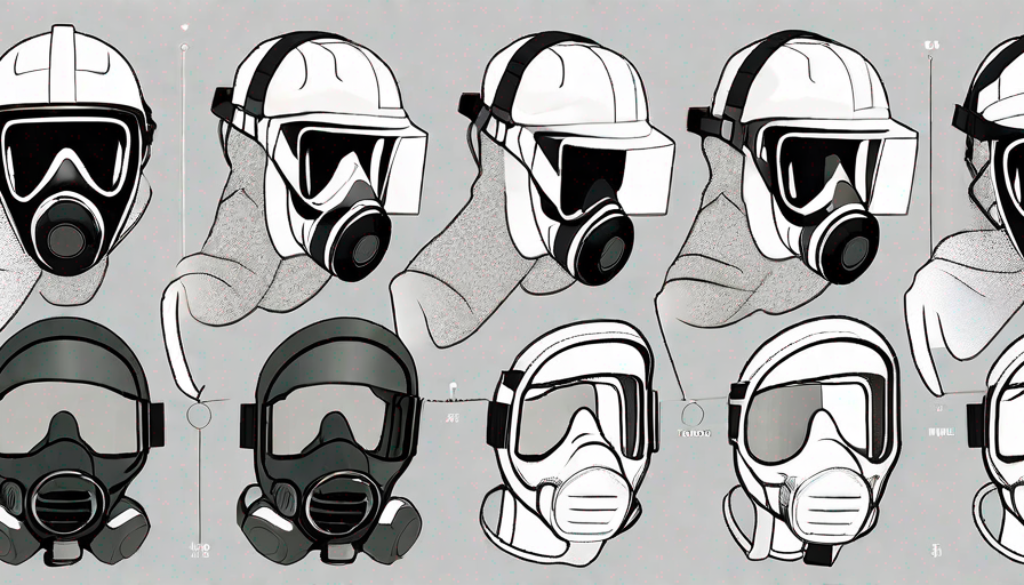 Gas masks have become an essential piece of safety equipment in recent years, especially given the increasing threats to human health and security. In this comprehensive review, we will delve into the importance of gas masks and take a closer look at the Mira Safety CM-6M Gas Mask – a popular choice among safety-conscious individuals. We will explore its key features, examine Mira Safety as a brand, unpack the CM-6M Gas Mask, evaluate its functionality and performance, and finally compare it with other brands in terms of price and customer feedback.
Understanding the Importance of a Gas Mask
As the world experiences a rise in natural disasters, industrial accidents, and even chemical warfare, the need for reliable protective gear has become more evident than ever. A gas mask serves as a critical tool in safeguarding one's respiratory system from harmful airborne pollutants, toxins, and gases. Providing a barrier between the wearer and the outside environment, gas masks offer vital protection during both emergency situations and routine work tasks.
Gas masks have a long history dating back to World War I when they were first introduced to protect soldiers from the devastating effects of chemical warfare. Since then, their design and functionality have significantly improved, making them an indispensable piece of equipment in various fields.
The Role of Gas Masks in Safety Measures
Gas masks play a crucial role in a variety of safety measures across diverse sectors. From firefighters tackling hazardous flames to healthcare professionals dealing with contagious diseases, these masks create a shield against harmful particles present in the air. The respiratory system is particularly vulnerable to airborne contaminants, and gas masks provide a reliable defense mechanism.
In the event of a fire, firefighters rely on gas masks to protect themselves from smoke inhalation, which can be just as dangerous as the flames themselves. The high-quality filtration systems in these masks effectively remove smoke particles and other toxic substances, allowing firefighters to breathe safely in hazardous environments.
In healthcare settings, gas masks are essential for protecting medical personnel from contagious diseases. During outbreaks or pandemics, healthcare workers come into close contact with infected individuals, putting themselves at risk. Gas masks equipped with specialized filters effectively prevent the inhalation of airborne pathogens, ensuring the safety of medical professionals and reducing the spread of diseases.
Additionally, gas masks are essential for military personnel and law enforcement officers who may encounter chemical agents during operations. Whether it's in combat zones or in response to terrorist threats, these masks provide a critical line of defense against chemical warfare agents. By mitigating the risks associated with toxic substances, gas masks ensure the safety and well-being of individuals in potentially life-threatening situations.
Key Features to Look for in a Gas Mask
When selecting a gas mask, it is important to consider several key features to ensure optimal protection and comfort. Factors such as filtration efficiency, seal quality, durability, and ease of use all contribute to the overall effectiveness of a gas mask.
Filtration efficiency is a crucial factor to consider as it determines the mask's ability to filter out harmful particles and gases. Masks with high filtration efficiency provide better protection against a wide range of contaminants.
Seal quality is another important consideration. A gas mask should fit snugly against the wearer's face to prevent any contaminated air from entering. A proper seal ensures that no gaps exist between the mask and the skin, minimizing the risk of inhalation of harmful substances.
Durability is also a key feature to look for in a gas mask. It should be able to withstand harsh conditions and prolonged use without compromising its effectiveness. A durable mask ensures long-term protection and reduces the need for frequent replacements.
Furthermore, ease of use is essential, especially in emergency situations. A gas mask should be easy to put on and adjust quickly. This allows for immediate protection without wasting valuable time during critical moments.
Additionally, factors like weight, size, and adjustability are crucial for ensuring a proper fit, as a well-fitting mask minimizes the risk of contaminated air leakage. Comfort is also an important consideration, as individuals may need to wear gas masks for extended periods.
By carefully evaluating these features, one can make an informed decision to select the most suitable gas mask for their specific needs. It is crucial to choose a gas mask that meets the necessary safety standards and provides the required level of protection for the intended application.
An In-depth Look at Mira Safety as a Brand
Mira Safety has established itself as a reputable brand in the realm of personal protective equipment. With a focus on producing high-quality and reliable products, Mira Safety has gained the trust of customers worldwide. Understanding the history and evolution of Mira Safety is essential in comprehending the brand's commitment to quality and safety.
The History and Evolution of Mira Safety
Mira Safety has a rich history that dates back to [insert year] when it was founded by [founder's name]. The brand's journey began with a vision to revolutionize the personal protective equipment industry by providing innovative solutions that prioritize safety and comfort. From its humble beginnings, Mira Safety quickly gained recognition for its dedication to excellence and commitment to customer satisfaction.
Over the years, the brand has continuously strived to improve its products, incorporating cutting-edge technology and keeping up with industry standards. Mira Safety's research and development team works tirelessly to identify emerging trends and potential hazards, ensuring that their products are always one step ahead in terms of performance and protection.
Always at the forefront of innovation, Mira Safety has successfully adapted to changing market demands while maintaining its dedication to producing top-notch protective gear. The brand's ability to anticipate and respond to the evolving needs of its customers has been instrumental in its growth and success.
Mira Safety's Commitment to Quality and Safety
Quality and safety are paramount when it comes to gas masks, and Mira Safety takes these aspects seriously. Each CM-6M Gas Mask undergoes a series of rigorous tests to ensure that it meets the highest quality standards. Mira Safety's manufacturing processes adhere to strict guidelines, guaranteeing that every product that leaves their facility is of exceptional quality.
But Mira Safety's commitment to quality doesn't end with production. The brand understands that proper utilization and maintenance of their products are crucial for optimal performance and user safety. To address this, Mira Safety provides comprehensive training and support to educate users on the correct usage and maintenance of their gas masks. This commitment to customer education sets Mira Safety apart from other brands in the market.
Furthermore, Mira Safety actively engages with its customers, seeking feedback and continuously improving its products based on user experiences and suggestions. This customer-centric approach ensures that Mira Safety remains at the forefront of innovation and consistently delivers products that meet the ever-changing needs of its users.
In conclusion, Mira Safety's journey from its inception to its current standing as a trusted brand in personal protective equipment is a testament to its unwavering commitment to quality and safety. Through continuous improvement, innovation, and customer-centricity, Mira Safety has solidified its position as a leader in the industry, providing individuals with the peace of mind they need in hazardous environments.
Unpacking the CM-6M Gas Mask
One of Mira Safety's popular offerings is the CM-6M Gas Mask, renowned for its reliability and functionality. Let's take a closer look at the design, materials, and overall construction of this remarkable gas mask.
When it comes to personal protective equipment, the design and material of the CM-6M Gas Mask are of utmost importance. Mira Safety has spared no effort in ensuring that this gas mask not only provides optimal protection but also offers comfort and ease of use. The mask's ergonomic design is carefully crafted to fit the contours of the face, allowing for a secure and comfortable fit. This thoughtful design ensures that the wearer can move freely without any restrictions, even during the most demanding situations.
In addition to its ergonomic design, the CM-6M Gas Mask is constructed using high-quality materials. The mask is made from durable elastomers, which are known for their flexibility and resistance to wear and tear. This ensures that the mask can withstand rugged conditions and prolonged use, making it suitable for a variety of applications. The impact-resistant polycarbonate lenses provide excellent visibility and are designed to withstand high-velocity impacts, offering an added layer of protection to the wearer.
Size and Fit of the CM-6M Gas Mask
One of the most critical aspects of a gas mask is its fit. Ill-fitting masks can compromise safety by allowing contaminants to enter. Fortunately, Mira Safety understands this and offers the CM-6M Gas Mask in various sizes to cater to different face shapes and sizes. This ensures that users can find the perfect fit, minimizing the risk of any gaps or leaks that could potentially expose them to harmful substances.
Moreover, the CM-6M Gas Mask features adjustable straps that allow users to customize the fit according to their preferences. These straps ensure a snug fit, providing users with peace of mind knowing that they are adequately protected. The adjustable straps also make the mask suitable for a wide range of users, including those with different head sizes and shapes.
Furthermore, the CM-6M Gas Mask is designed to be compatible with other personal protective equipment, such as helmets and communication devices. This allows users to integrate the gas mask seamlessly into their existing gear, ensuring maximum effectiveness and versatility in various operational environments.
Functionality and Performance of the CM-6M Gas Mask
While design and fit are essential considerations, functionality and performance are equally important factors to evaluate in a gas mask. Let's delve into the specifics of the CM-6M Gas Mask's capabilities.
When it comes to protecting oneself from hazardous gases, particulates, and chemical agents, the CM-6M Gas Mask is a reliable choice. This mask utilizes advanced filtration technology to remove a wide range of harmful substances from the air. Equipped with a high-efficiency particulate air (HEPA) filter and activated carbon components, it offers superior protection.
One of the key features of the CM-6M Gas Mask is its filter efficiency. The HEPA filter is designed to capture particles as small as 0.3 microns, ensuring that even the tiniest harmful particles are removed from the air you breathe. The activated carbon components, on the other hand, effectively absorb and neutralize various chemical agents, providing an additional layer of protection.
It is important to note that the specific protection level of the CM-6M Gas Mask depends on the selected filter cartridges used with the mask. Different cartridges are available to address specific hazards, such as smoke, tear gas, or biological agents. This versatility allows users to customize their protection based on their specific needs and the environment they are in.
Comfort and Ease of Use
Mira Safety's CM-6M Gas Mask not only prioritizes safety but also user comfort. The mask's lightweight construction makes it easy to wear for extended periods without causing discomfort or fatigue. Whether you are in a high-stress situation or performing tasks that require physical exertion, the CM-6M Gas Mask ensures that you can breathe comfortably.
The adjustable straps of the CM-6M Gas Mask play a crucial role in providing a secure and comfortable fit. These straps can be easily adjusted to accommodate different head sizes and shapes, ensuring that the mask stays in place even during vigorous movements. This feature is particularly important in emergency situations where every second counts.
In addition to its comfortable fit, the CM-6M Gas Mask is designed for ease of use. The intuitive design allows for quick and straightforward donning and doffing, making it ideal for emergency situations where time is of the essence. The mask's user-friendly features ensure that even individuals with minimal training can use it effectively.
Overall, the CM-6M Gas Mask offers a combination of functionality, performance, and comfort. With its advanced filtration technology, customizable protection level, and user-friendly design, it is a reliable choice for anyone seeking reliable respiratory protection in hazardous environments.
Comparing the CM-6M Gas Mask with Other Brands
When it comes to personal protective equipment, the CM-6M Gas Mask stands out among its competitors. With its exceptional features and reliable performance, it is essential to compare this gas mask with other brands to fully understand its advantages and value for money.
Price and Value for Money
Price is undoubtedly a crucial factor when purchasing a gas mask. While the CM-6M Gas Mask may not be the most affordable option on the market, it offers superior quality, durability, and protective capabilities that make it a worthwhile investment. The materials used in its construction are of the highest standard, ensuring long-lasting performance and reliability.
Moreover, the CM-6M Gas Mask is designed with user comfort in mind. Its ergonomic design and adjustable straps provide a secure and comfortable fit, allowing users to wear it for extended periods without discomfort. This feature alone adds significant value to the overall package.
Customer Reviews and Feedback
Understanding the experiences of other customers is invaluable when making a purchasing decision. Positive customer reviews highlight the CM-6M Gas Mask's effectiveness, comfort, and overall user satisfaction. Users have praised its ability to provide a reliable seal, preventing any harmful substances from entering the mask.
Furthermore, the CM-6M Gas Mask's superior filtration system has received accolades from customers. Its multi-layered filters effectively remove a wide range of airborne contaminants, including dust, smoke, and chemical agents. This feature has proven to be vital in various hazardous environments, ensuring the safety and well-being of users.
Additionally, the CM-6M Gas Mask's ease of use has been commended by customers. Its intuitive design allows for quick and hassle-free donning and doffing, making it suitable for emergency situations where time is of the essence.
In conclusion, the Mira Safety CM-6M Gas Mask is a top-of-the-line personal protective equipment option, offering excellent protection, comfort, and ease of use. Backed by Mira Safety's commitment to quality and safety, this gas mask is a reliable choice for individuals seeking optimal respiratory protection in hazardous environments. Whether facing dangerous chemicals, airborne contaminants, or even biological threats, the CM-6M Gas Mask is a robust solution that ensures peace of mind and enhanced safety in potentially life-threatening situations.