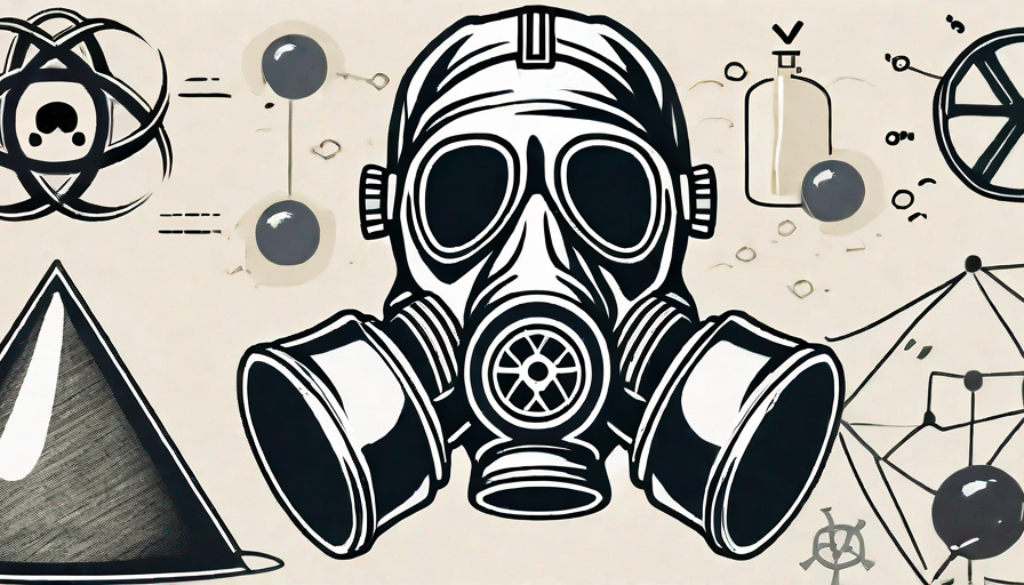 Chemical, biological, radiological, and nuclear (CBRN) threats are a critical concern in today's world. Understanding these threats and the importance of CBRN protection, particularly through the use of gas masks, is essential for personal safety and preparedness.
Understanding the Acronym CBRN
CBRN stands for chemical, biological, radiological, and nuclear. These terms encompass a range of threats that can pose significant harm to individuals and communities. Each component of CBRN presents unique challenges and requires specific measures for protection.
The Components of CBRN: Chemical, Biological, Radiological, Nuclear
Chemical threats involve the use of toxic substances, such as nerve agents or hazardous industrial chemicals, which can cause severe injury or death. These substances can be released through various means, including aerosols, liquids, or solids. When exposed to these chemicals, individuals may experience symptoms such as respiratory distress, burns, or organ failure.
Biological threats relate to the use of biological agents, like viruses or bacteria, which can spread diseases and cause widespread health emergencies. These agents can be intentionally released through the air, water, or food, leading to outbreaks of infectious diseases. The effects of biological agents can range from mild illnesses to severe epidemics, depending on the virulence and transmission capabilities of the specific agent.
Radiological threats involve the release of radiation from sources like nuclear accidents or dirty bombs. Radiation can take the form of alpha, beta, or gamma particles, and exposure to these particles can have harmful effects on the human body. Depending on the dose and duration of exposure, individuals may experience symptoms such as nausea, hair loss, or even radiation sickness. Long-term exposure to radiation can also increase the risk of developing cancer or other radiation-related illnesses.
Nuclear threats involve the use of nuclear weapons or the accidental release of nuclear materials, which can result in devastating explosions and widespread radiation exposure. Nuclear weapons utilize the energy released from nuclear reactions to cause massive destruction. The detonation of a nuclear weapon can lead to immediate casualties from the blast, as well as long-term health effects from radiation exposure. Accidental releases of nuclear materials, such as those that occurred in Chernobyl or Fukushima, can also have severe consequences for human health and the environment.
The History and Evolution of CBRN
The history of CBRN threats dates back to ancient times when chemical warfare was used in conflicts. The ancient Greeks and Romans were known to use toxic substances, such as sulfur and pitch, to poison enemy forces. Throughout history, various civilizations have employed different chemical agents, including mustard gas and nerve agents, to gain a tactical advantage on the battlefield.
Over the centuries, the understanding and capabilities of CBRN threats have evolved significantly. The development of modern chemistry and biology in the 19th and 20th centuries allowed for the creation of more potent and deadly chemical and biological agents. The discovery of radioactivity and the harnessing of nuclear energy in the 20th century introduced a new dimension to CBRN threats, with the potential for catastrophic explosions and long-lasting radiation effects.
Advancements in technology and scientific knowledge have increased the potential for more sophisticated and devastating CBRN attacks. The rise of terrorism in the 21st century has further highlighted the need for effective CBRN protection measures. Terrorist organizations, such as Al-Qaeda and ISIS, have expressed interest in acquiring and using CBRN agents, raising concerns about the potential for large-scale attacks on civilian populations.
In addition to military contexts, CBRN threats can also arise in civilian settings, such as accidental releases or deliberate acts of terrorism. Industrial accidents, such as the Bhopal disaster in 1984, have demonstrated the devastating consequences of chemical releases on surrounding communities. The threat of CBRN terrorism has led to increased security measures at airports, government buildings, and other high-profile targets to prevent the unauthorized acquisition and use of CBRN agents.
Overall, understanding the acronym CBRN and the components it represents is crucial for developing effective strategies to mitigate and respond to these complex and multifaceted threats. By staying informed and prepared, individuals and communities can better protect themselves from the potential harm posed by chemical, biological, radiological, and nuclear hazards.
The Importance of CBRN in Today's World
CBRN threats pose significant risks in today's world, both in military operations and non-combat situations. Understanding and addressing these threats are essential for safeguarding lives, maintaining national security, and promoting public health.
Chemical, Biological, Radiological, and Nuclear (CBRN) threats have become increasingly prevalent in recent years, with the potential to cause widespread devastation and loss of life. These threats encompass a wide range of hazards, including chemical agents, biological pathogens, radiological materials, and nuclear weapons. The consequences of a CBRN incident can be catastrophic, affecting not only the immediate victims but also the surrounding environment and infrastructure.
CBRN Threats in Modern Warfare
In modern warfare, the use of CBRN agents has the potential to cause mass casualties and disrupt military operations. Protecting soldiers and civilians from these threats requires comprehensive CBRN defense strategies, including the use of protective gear like gas masks.
CBRN weapons have been used in various conflicts throughout history, from World War I to the more recent conflicts in Syria and Iraq. The use of chemical agents such as nerve agents, blister agents, and choking agents can inflict severe harm on both combatants and non-combatants. Biological weapons, such as anthrax or smallpox, can spread rapidly and cause widespread illness or death. Radiological materials, such as radioactive isotopes, can contaminate the environment and pose long-term health risks. And the destructive power of nuclear weapons is well-known, with the potential to cause immense devastation on a massive scale.
Given the evolving nature of warfare and the increasing accessibility of CBRN materials, it is crucial for countries to develop robust defense capabilities against these threats. This includes investing in research and development of advanced detection systems, effective decontamination methods, and training programs to educate military personnel on CBRN defense tactics.
CBRN in Civilian Contexts
CBRN threats are not limited to military scenarios alone. Accidental releases of hazardous chemicals, outbreaks of infectious diseases, or terrorist attacks involving CBRN agents can occur in civilian settings. Consequently, public awareness and preparedness for CBRN events are crucial for minimizing the impact and ensuring a coordinated response.
In recent years, there have been several high-profile incidents highlighting the need for civilian readiness in the face of CBRN threats. Chemical accidents at industrial plants, such as the Bhopal disaster in 1984 or the Tianjin explosion in 2015, have resulted in significant loss of life and environmental damage. Outbreaks of infectious diseases, such as the Ebola virus or the ongoing COVID-19 pandemic, have demonstrated the need for effective containment measures and rapid response capabilities.
Terrorist organizations have also shown interest in acquiring and using CBRN materials to carry out attacks. The 1995 Tokyo subway sarin attack by the Aum Shinrikyo cult and the 2017 assassination of Kim Jong-nam using the nerve agent VX are just a few examples of how CBRN agents can be employed as weapons of terror. These incidents highlight the importance of intelligence sharing, law enforcement cooperation, and international efforts to prevent the proliferation of CBRN materials.
Furthermore, public education and awareness campaigns play a vital role in preparing individuals and communities for CBRN events. This includes teaching people how to recognize and respond to potential CBRN threats, providing guidance on protective measures, and promoting the importance of early detection and reporting. By empowering individuals with knowledge and skills, the impact of CBRN incidents can be minimized, and lives can be saved.
The Role of Gas Masks in CBRN Protection
Gas masks are an essential component of CBRN (Chemical, Biological, Radiological, and Nuclear) protection, providing a physical barrier between individuals and harmful CBRN agents. These devices offer respiratory protection by filtering out harmful substances and ensuring clean air for breathing.
Gas masks play a crucial role in safeguarding individuals from the devastating effects of CBRN threats. Whether it's a chemical spill, a biological outbreak, or a radiological incident, gas masks serve as a vital line of defense, allowing individuals to navigate hazardous environments with reduced risk.
How Gas Masks Protect Against CBRN Threats
Gas masks use filters designed to remove or neutralize harmful chemicals and particles from the air. This filtration process prevents inhalation of toxic gases and aerosols, offering vital protection against chemical and biological agents. The filters are meticulously engineered to capture and trap a wide range of hazardous substances, ensuring that only clean air reaches the wearer's respiratory system.
Moreover, gas masks with appropriate seals provide a physical barrier against the entry of radiological and nuclear contaminants. These masks feature a snug fit, preventing any potential leakage that could compromise the wearer's safety. The combination of effective filtration and a secure seal makes gas masks an indispensable tool in CBRN protection.
Different Types of Gas Masks for CBRN Protection
Various types of gas masks are available, each designed for specific CBRN scenarios. The selection of the right gas mask depends on factors such as anticipated threats, duration of use, and comfort requirements.
For short-term emergency situations, there are compact and lightweight gas masks that provide immediate protection. These masks are designed for quick deployment and ease of use, allowing individuals to respond swiftly to CBRN incidents. They are often equipped with disposable filters that can be easily replaced when needed.
On the other hand, for prolonged exposure to CBRN hazards, there are gas masks that offer extended protection. These masks are designed with durable materials and advanced filtration systems, ensuring reliable performance over an extended period. They are equipped with replaceable filters that have a longer lifespan, reducing the need for frequent replacements.
Comfort is also a crucial factor when selecting a gas mask. Some masks are designed with adjustable straps and cushioned seals to provide a comfortable fit for extended wear. This feature is particularly important for individuals who may need to wear the mask for extended periods, such as emergency responders or military personnel.
In conclusion, gas masks are indispensable tools in CBRN protection. They provide a critical barrier against harmful CBRN agents, ensuring the safety and well-being of individuals in hazardous environments. With their filtration capabilities and secure seals, gas masks play a vital role in mitigating the risks associated with CBRN threats.
Selecting the Right Gas Mask for CBRN Protection
Choosing the right gas mask for CBRN (chemical, biological, radiological, and nuclear) protection is of utmost importance when it comes to safeguarding oneself from potential threats. It requires careful consideration of several factors to ensure maximum safety and effectiveness.
Factors to Consider When Choosing a Gas Mask
First and foremost, it is essential to evaluate the level of protection needed based on the anticipated CBRN threats. Different gas masks offer varying degrees of protection, so it is crucial to understand the specific requirements for chemical, biological, radiological, or nuclear protection. This understanding will help in selecting a gas mask that meets the necessary certification standards and testing compliance.
Comfort and usability are also vital factors to take into account. A gas mask that fits well and provides a comfortable seal can significantly enhance user comfort and ensure a tight fit. Adjustable straps allow for customization, ensuring that the gas mask fits securely and snugly on the user's face. Additionally, the ease of donning and doffing the gas mask should be considered, as well as the communication capabilities while wearing it, especially in team-based environments.
Furthermore, it is crucial to consider the durability and reliability of the gas mask. A gas mask that is constructed with high-quality materials and has undergone rigorous testing will offer better protection and last longer. It is essential to choose a gas mask from reputable manufacturers who prioritize safety and quality.
Maintenance and Care for Your Gas Mask
To ensure the effectiveness and longevity of a gas mask, proper maintenance and care are crucial. Regularly inspecting the mask for any signs of wear and tear is essential. This includes checking for damaged straps, filters, or any other components that may compromise the mask's integrity.
Following the manufacturer's instructions for filter replacement is vital to maintain optimal performance. Filters have a limited lifespan and need to be replaced at regular intervals to ensure continued protection. Additionally, proper storage conditions should be adhered to, as exposure to extreme temperatures or moisture can degrade the mask's components.
Cleaning and disinfecting the gas mask according to the provided guidelines is essential to prevent the buildup of contaminants or bacteria. This will help maintain the mask's functionality and ensure that it remains safe to use.
In conclusion, selecting the right gas mask for CBRN protection requires careful consideration of factors such as the level of protection needed, comfort and usability, and maintenance requirements. By taking these factors into account, individuals can make an informed decision and ensure their safety in potentially hazardous situations.
Conclusion: The Relevance of CBRN Knowledge and Protection Today
In today's world, CBRN threats pose significant risks to individuals, communities, and national security. Understanding CBRN threats and the importance of protective measures, such as gas masks, is crucial for personal safety, preparedness, and effective response.
By staying informed, selecting the right gas mask, and maintaining it properly, individuals can enhance their resilience and preparedness against CBRN threats. Taking proactive steps towards CBRN protection is not just a matter of personal safety but also contributes to a safer and more secure society.